New Shadowlands Boosts
Eternity's End is the Patch 9.2 of the retail Shadowlands World of Warcraft and it is soon going live to bring lots of interesting content! It is about time as the second major content patch of Shadowlands has been around for a while and players are getting bored with a continuous farm of Cataloged Research and weekly mythic dungeon clears. So what Eternity's End will bring us and what 9.2 boosts can you buy now? Let's dive deep and find it out!
Eternity's End Boosting Service
As always, the beginning of a new World of Warcraft patch is the most stressful time for players all around the globe. New PvE and PvP content is being released filled with grinding, daily and weekly quests, new dungeons, and even raids. Patch 9.2 Eternity's End is not different. It has an overwhelming amount of new content for all types of players. So whether you are a pet collector or a professional hardcore raider, there would be definitely something for you to enjoy.
But what to do if you want it all but have only a limited amount of playing time. Or what if you don't enjoy weeks of grinding reputation just to get a new mount to your collection? Who would enjoy that, right? Then we have a solution for you! Eternity's End carry services that we offer for sale are a great tool to boost your WoW character in patch 9.2 while enjoying only your favorite activities.
So what new boosts do we offer for our clients to buy in Patch 9.2?
New upgraded high-key 9.2 Mythic + Dungeon services.
Sepulcher of the First Ones PvE Raiding Services.
Professional 9.2 PvP carries and rank boosting.
Eternity's End PvE and PvP gearing for sale including new Progenitor tier sets.
PvP and PvE mount collection boosting.
Collectibles farm including new pets, transmog, and toys.
Patch 9.2 Reputation and Cyphers farming and grinding services.
Flying unlock in Zereth Mortis.
New Torghast challenge mode with increased difficulty and new layers.
Questing and new Secrets of the First Ones campaign completion.
And much more fast and cheap Shadowlands 9.2 carries!
As you can see our experience boosting team is ready to help you with almost any new activity added in the Eternity's End content patch. From Cyphers farming to defeating The Jailer in mythic difficulty. If you have something to delegate to us, we will complete it as fast as possible and with the highest quality standards.
Since we have covered all types of carries we offer for the new Shadowlands patch, let us now discover what are those new interesting features that developers have added into the game.
Zereth Mortis, the Workshop of Creation the New Zone of 9.2
The major addition to the Shadowlands world is the new zone - Zereth Mortis. it is the most sacred and ancient part of the afterlives where true mysteries happen. It is here brave heroes of Azeroth will meet 2 new factions, discover the secrets of the mysterious First Ones and earn Cyphers to level their Progenitor console.
What awaits players in the heart of Zereth Mortis?
New quests and storyline to progress into the third chapter of Shadowlands saga.
New factions to grind your reputation with and get awesome rewards.
New World Boss: Antros.
Double Legendary upgrade recipe.
New events, world quests, and other solo content to progress through the zone.
Flying is confirmed unlockable in ZM.
With so much new content it is no wonder that players are taking pre-orders for some boring reputation grind or daily questing routines. This sort of character boost would make your life so much easier in patch 9.2. Apart from saving lots of playing time and delegating boring weekly activities to our team of experienced boosters, you will also get a chance to stay on the same level with the top players in your realm while making a tiny part of their effort.
Get the Zereth Mortis carries or make a pre-order for the upcoming weeks of the new patch as the earlier you start the better chances you have for an ultimately fun gaming experience! Moreover, there is something else added in patch 9.2, that will require your attention.
New Parts of Shadowlands Campaigns
Same as for every Shadowlands update, an Eternity's End patch will introduce new lore in the World of Warcraft. Players will have a chance to continue their adventure with the main story characters led by Bolvar and Pelagos themselves.
This of course means lots of new time-gated quests, Cyphers of the First Ones grinding, and other time-consuming activities. New secrets are added and discovering them will unlock Flying in Zereth Mortis, which is essential for every player! As always, if you wish to skip the lengthy farming you can always opt to buy Secrets of the First Ones campaign carry services from Boosthive and we will take care of it.
Sepulcher of the First Ones 11 Boss Raid
The most exciting part of the new content patch is obviously the Sepulcher of the First Ones raiding instance. Where brave heroes will face one of the most controversial characters of WoW - Zovaal, the Jailer. Apart from battling the most annoying villain in the whole Azeroth, players will get a chance to unlock new achievements, collectible and awesome gear from the Sepulcher.
Here are some of the services that our team is caple of delivering:
SoFO Normal Raid clears and gearing;
SoFO Fast Heroic Raid Lootruns;
later in the patch, you can buy mythic Sepulcher clears;
the glory of the Sepulcher Raider achievement;
Sepulcher BiS gear farming;
Progenitor Class tier sets;
and any other raid-related activity!
Apart from that, the new Season comes into the Shadowlands leading to more rewards and unique collectibles! If you are tired to look for Sepulcher of the First Ones Raid Guides and wiping on the first boss in LFG difficulty, then Boosthive should be your best choice!
Shadowlands New PvP Season 3
New PvP Season brings some new exciting changes! Apart from the new Seasonal mount Vicious War Croaker and Season 3 Glad dragon - Cosmic Gladiator's Soul Eater, a change version of adaptable PvP gear is added.
So let's sum up all the changes to PvP in the Eternity's End patch 9.2:
New Seasonal mounts are available for boosting.
New gladiator mount for the top PvP players.
Full PvP Gear (that gains +13 item levels in PvP mode).
And of course the cool-looking legendary PvP set!
PvP rewards are great, however, let's not forget about the new season in Mythic Plus dungeons where you can get some pretty awesome loot through our 9.2 M+ boosting services.
Mythic Plus Season 3 in Eternity's End
The New M+ season brings bran new affix to every dungeon of Shadowlands. Encrypted mobs will drop some relics of the First Ones once defeated. These relics gain powerful group buffs after being destroyed in a specific order.
Other than that there are a few changes that can be presented in a form of a list:
All these items can be ordered now at our store while the professional boosting team will take care of the runs, loot, and achievements. Feel free to contact us if you require something specific as we are always here for you.
Tazavesh, the Veiled Market - Now Available in Mythic Plus
Shadowlands Patch 9.2 Eternity's End will unlock mythic plus mode for this Megadungeon. Tazavesh Mythic+ will be divided into two dungeons with 4 bosses in each similar to the Operation: Mechagon in BFA. Now you can get various powerful weapons, collectibles, and transmog items but with an increased keystone ilvl. The boosting services for Tazavesh and the keys will be available straight with the first-day instance access.
Purchasing Eternity's End Carry Services
That sums up the new content added to the WoW Shadowlands with the release of 9.2 Patch and clearly shows what carries we now offer for sale for our loyal customers. Browse through the boosting products, explore various combinations and options and select the ones suitable for you. All our services are fast and reasonably priced, however, if you are interested in something unique or VIP boosting do not hesitate to contact our managers and we will definitely find a way to help you.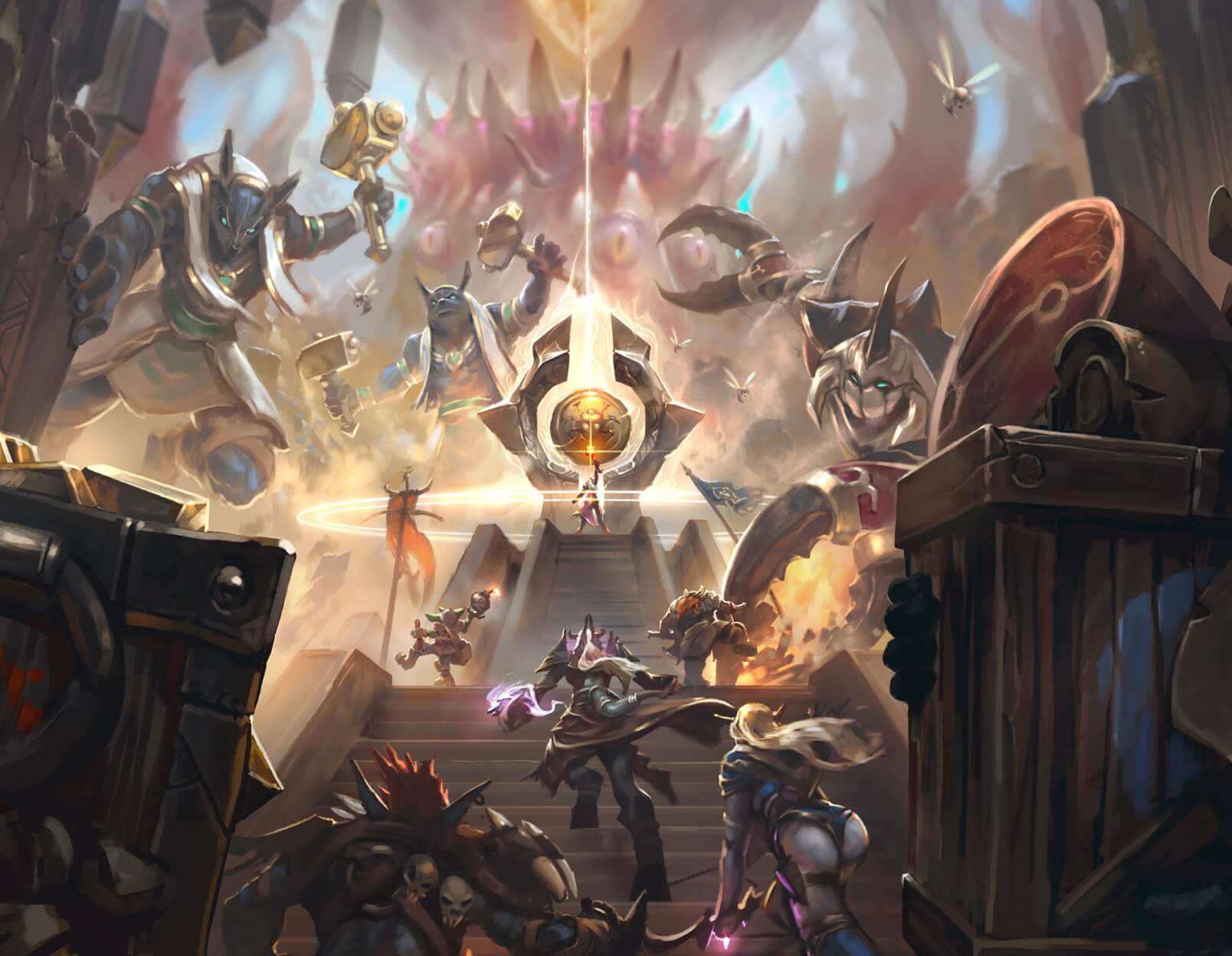 Core Principles
Why Choose Us?
We are constantly improving our services to deliver mind-blowing experiences to our customers for every order, every day
---
completed orders
and counting…
Rated 5 Stars
On REVIEWS.io
Check out our reviews on REVIEWS.io, an independent reviews platform. All reviews are genuine and published in real time.
Read customer reviews
We are online NOW and 24/7
We will contact you and start working on your order within 7 minutes
Only game experts on our team
Every manager, even the owner, has successfully personally completed over 300 orders
We only use safe and time-proven methods
P.S. We'd better miss a $10,000 sale, than risk your account