Vicious Warstalker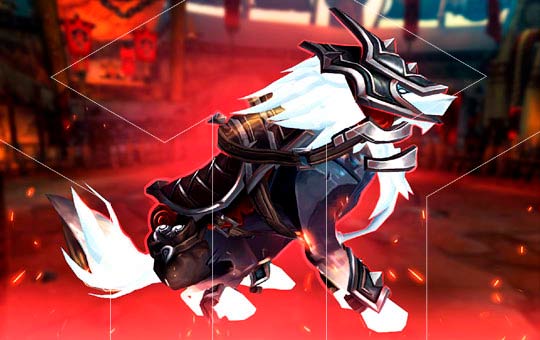 Please contact our managers to order this item
Vicious Warstalker boost will help you obtain this new Seasonal PvP mount from Season 4 in patch 9.2.5 of Shadowlands. It is awarded for winning over 80 games on 3v3 arena while being over 1000+ rating. Buying Vicious Warstalker mount will allow you to get this War Wolf in no time with our skilled PvP team.
WoW Vicious Warstalker mount boost includes:
Epic mount - Vicious Warstalker.
At least 1000+ arena rating in 3v3.
Conquest and Honor points obtained during the boost.
Great Vault PvP reward.
Fun and chill arena games.
Boost takes: 4-7 days.
We recommend purchasing Vicious Warstalker carry in several weeks after PvP Season 4 starts in Shadowlands patch 9.2.5. This way you can get a lot of Conquest points and weekly caps in one go.
We offer Vicious Warstalker for sale for all the players who want to get this PvP Wolf mount fast and easy. Please read the requirements before purchasing this service.
Requirements:
60 level;
low 3v3 arena rating;
225 ilvl with 2 PvP trinkets.
WoW Vicious Warstalker For Sale
The wolf mounts were available in the game since its release. But these Alliance and Horde-themed ones really look very prestigious. PvP Seasonal Warstalkers were added in Shadowlands patch 9.2.5 and have glowing white skin with metal armor. PvP players want to get them asap in the new season.
These white wolves will finally be obtainable with the start of Shadowlands PvP Season 3. As usual, players will simply need to get 100% of the PvP mount progress bar while winning PvP battles on 1000 or higher rating.
The process of farming the PvP Vicious mount in Season 4 will still be tedious, long, and hard, requiring dedication to the arena. But how to get Vicious Warstalker if you are a mount collector who hates PvP? We have the easiest solution for you - simply buy Vicious War Wolf, and the Boosthive team will help you get this mount fast and with no stress.
Our Vicious Warstalker carry service advantages:
100% order completion;
nerves and time saved with our services;
only professional PvP players in our team;
safe, legal and time-proven way to get the mount;
free selfplay option;
24/7 support managers to help you.
Purchasing Vicious Warstalker in the first months of SL Season 4 will be the best option. Arena games are always hard at the start of the new season because top PvP players will also be playing in lower brackets due to rating reset.
The mount won't be obtainable after the end of Shadowlands Season 4. It won't come back for a long time and will only reappear much later in the next expansion. Warstalker mount will be added to the vendor and will be purchased for Vicious Saddle currency.