Reins of the Raven Lord Mount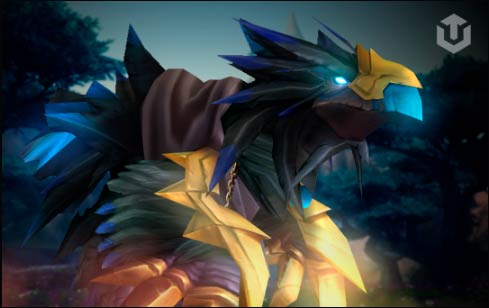 Reins of the Raven Lord is one of the most iconic and cool-looking mounts in World of Warcraft. It is pretty rare as it has only a 1% drop chance from the Anzu at Heroic Sethekk Halls dungeon. Buying the Reins of the Raven Lord guaranteed carry service will get you this mount no matter how many runs it will take.
Added back in the Burning Crusade expansion it is still an awesome ground mount that will surely be handy in any expansion, therefore boosting the overall value of your collection.
Reins of the Raven Lord mount boost include:
Reins of the Raven Lord mount farm options:

the selected number of runs into the Sethekk Halls heroic to kill Anzu;
Raven Lord guaranteed farm (until it drops);
guaranteed mount buyout from BMAH without using your gold.

Achievement Reins of the Raven Lord (with the guaranteed option).
Lower CIty reputation.
95% bidding winrate on Black Market.
We use our own gold.
Free 1-70 leveling to access Black Market (only for BMAH method).
Boost takes: 4-6 weeks (average).
The item Reins of the Raven Lord allows you to learn the Raven Lord mount also referred to as Anzu due to the name of the boss who drops it. Apart from awesome looks, this ground mount has vast lore behind it making it an even more valuable purchase.
Important: In case you select the number of Anzu runs and the mount drops before the limit is reached, we will use the remaining fee for unused runs as a credit for another service of your choice.
Requirements:
no gear requirements;
45 level.
Requirements (BMAH buyout):
second sub-account with Dragonflight (f.e WoW 2) on the same battle-net;
NO need to have ANY gold on your account;
instant character 70 lvl boost purchased;
this service is piloted only.
During our carry services, we never ask your secret questions or any other information, so your account will be protected from theft at all times of the boost.
How to fast farm Reins of the Raven Lord?
Although being added a long time ago Anzu mount is still one of the best ground mounts in-game. Its model has received some additional skin variations over the years like Flametalon of Alysrazor and Voidtalon of the Dark Star but the original Raven Lord mount still has the most organic and pleasing looks of them all. Getting it is not a complicated process, however, it will require a lot of time due to the 1% drop rate and a daily cooldown reset on heroic dungeons.
Here is a brief and straight-to-the-point guide on what you will need to do to farm the Reins of the Raven Lord fast and efficiently in BFA or the upcoming Shadowlands expansion.
teleport to Shattrath City using one of the capital portals.
travel into the Ring of Observance in the Terokkar Forest.
locate the Sethekk Halls dungeon and don't forget to turn on heroic mode.
rush through the dungeon until you reach the Anzu boss.
kill the boss and pray to RNG gods to get the Reins of the Raven Lord.
There is a very low probability Anzu mount will happen to drop from your first run into the dungeon. On the contrary, people have been doing anywhere from 300-5000 runs to get this awesome bird-like god into their collection. Everything here depends on your luck and the availability of enough free playing time to do this repeatedly day after day. Having multiple characters can help to acquire this mount faster but still, the World of Warcraft random drop system plays a big role in that.
But you should not waste your free time and cross your fingers for the mount to drop if you are buying the Reins of the Raven Lord boosting service from Boosthive. Our professional boosters will carry your character into the Sethekk Halls as many times as needed to get you that awesome rare mount. Get the Anzu carry today and our managers will help you to get the top-quality service that you deserve.
BMAH Reins of the Raven Lord For Sale
The way we will get your Anzu mount from Black Market is quite easy.
How it works:
You need to create another account (f.e. WoW 2) within your battle-net account.
Any Dragonflight edition and game time purchased.
Order 3 Character Transfers bundle via in-game shop.
Our team will start hunting for the desired mount on 20+ different realms.
When an item pops up on any server, we will transfer there.
We will start bidding on the item and win it on the first try with a ~95% chance.
If we lose the bidding, we will repeat steps 4-6 steps.
Using this method we will loot Anzu's mount much faster than relying only on a random 1% drop from the Sethekk Halls. We have characters on all low-popular realms so we know where and when the mount appears. We do everything on your separate account, so there are no risks of losing anything.
In case you still have questions before buying Reins of the Raven Lord from Anzu, feel free to contact us in an online chat. We work 24/7 and our managers are ready to answer all your questions.