Priest Class Mount - High Priest's Lightsworn Seeker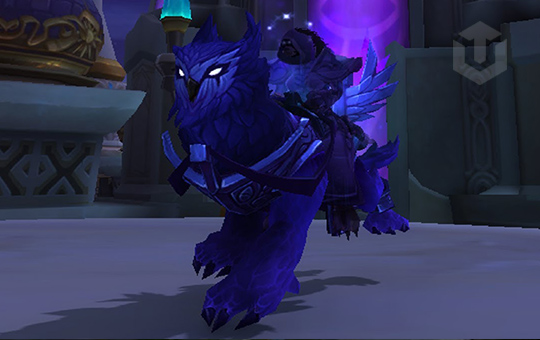 Buying the Priest Class mount will give you an opportunity to skip doing a lengthy quest line leading to capturing this unique World of Warcraft flying beast. High Priest's Lightsworn Seeker is a new class-specific mount added for all priests in the Legion expansion. Mount is a reward for the completion of some quests and a Brann related scenario.
Boost takes ~48 hrs.
This cool-looking mount has a chameleon effect and changes its look depending on your character current spec. As soon as you switch the specialization your Seeker will become golden - for holy priests, bright white for discipline, and purple for shadow spec.
Priest class mount carry includes:
The new priest class mount is a cute-looking animal with the head of a surprised owl and the body of a griffin. It acts as both, a ground mount and a flying one. When used for flying it spreads large angelic wings that emit glittering light of various colors, depending on your current spec. There is also another pair of wings upon the saddle which also emit a shadowy glow.
Requirements:
50 level;
Legion WQs unlocked (additional option if not).
We never ask your secret questions or any other information, so your account will be protected from theft.
How to get Legion priest class mount in BFA or Shadowlands?
First of all, you will have to remember that it is a Legion priest class mount therefore most of the action will take place in the legion. Especially important is that you need to complete the class hall campaign and the broken shore questline to unlock the quest giver.
The main questline for priest class mount starts at Grand Priest on Broken Shore after fully completing Breaching the Tomb achievement with your priest character. After that, you will start the shorter quest chain with Magni.
Magni Bronzebeard needs your help to investigate what he believes to be a hidden Titan vault near the Maelstrom, which is related to the Light, in The Sunken Vault. Since it's a faraway location, Brann Bronzebeard has arrived to assist both of you as well. He has got a small submarine from the Explorer's League to speed up the process of transportation.
Therefore here are the main steps you will need to accomplish to get your Legion priest class mount:
start The Speaker Awaits quest by going to your order hall;
Travel to The Sunken Vault by meeting Brann Bronzebeard in Azsuna (near Illidari Stand);
Complete the Magni scenario: activate the console and kill the enemies who are attacking and trying to stop you.
High Priest's Lightsworn Seeker mount will be added to your mount collection automatically after turning in the last quest.