Crimson Tidestallion Mount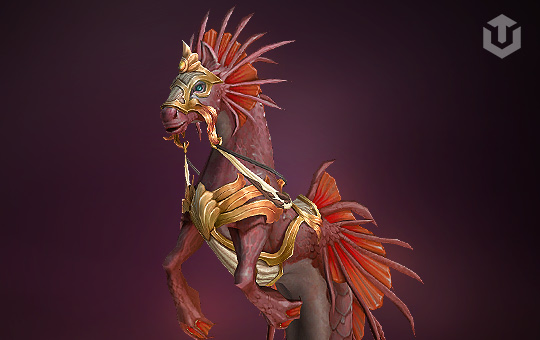 If you want to buy Crimson Tidestallion mount farm service in WoW, then this is the right place. This mount is sold by Murloc Mrrl in Nazjatar, but can only be purchased a couple of days each month, and it is considered to be exceedingly rare.
There is also a small trading minigame that requires players to quickly exchange different items between four murloc vendors. Each item has only 2 to 3 minutes before it expires, so you gotta be quick! Or you can just let us handle getting the mount on the right day and completing this minigame for you by purchasing Crimson Tidestallion mount boost.
Crimson Tidestallion boost rewards:
Crimson Tidestallion seahorse mount.
Mrrl's Secret Stash achievement.
Done 100% manually via completing the minigame.
Chance to get some Benthic Gear or Prismatic Manapearls.
Boost Takes: ~1-30 days.
Important: Please remember that ETA for this service only shows an approximate time window. With bad enough luck, it could take even more time. On the contrary, with good RNG the completion time might be faster. Please take a quick look at the requirements for this service before buying it.
Requirements:
level 50+;
No specific gear is required;
active WoW subscription.
How to get Crimson Tidestallion Mount in WoW?
Two to four days each month a murloc merchant called Mrrl will sell Crimson Tidestallion mount. He can be found at these coordinates - 48,2, 45,2. When that happens, players have to go through a long and arduous "minigame" that involves a lot of trading around with other murloc merchants. However, if the player doesn't make it in time, items will expire and the entire process will have to be repeated all over again.
If you don't want to go through all this grind yourself and waste your time hunting for the murloc merchant every single day - just leave this arduous task to us. We will handle everything for you with our Crimson Tidestallion mount boost.
Still have any questions about Crimson Tidestallion for sale, or want to add something extra to your order? Simply contact us via live chat on our website, Discord or Skype and we will be happy to assist you. Our customer service team is available 24/7, which means that you can do so at any time. Expand your mount collection today together with Boosthive!