The Bloodhoof Bull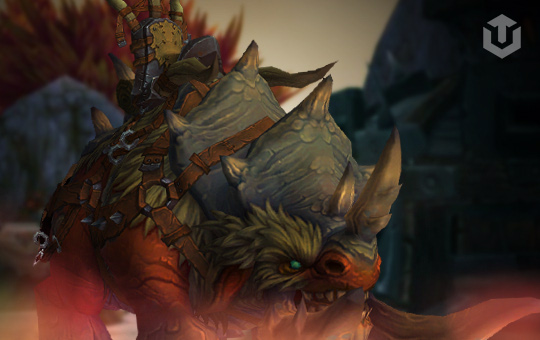 The Bloodhoof Bull mount is one of 7 rare-elite mounts added in the World of Warcraft: Warlords of Draenor expansion. It has a 100% drop chance from the elite clefthoof of Nagrand. Buying the Bloodhoof Bull mount will allow you to save a lot of time camping this beautiful beast and add a cool-looking rideable monster to your mount collection.
By purchasing the Bloodhoof Bull boosting service you are getting a 100% guarantee from us to receive this epic ground mount in your bag. Additionally, you will get some nice perks making this offer even more valuable.
Buying the Bloodhoof Bull carry will get you:
start of your boost in 30-50 minutes after order confirmation;
camping and tracking of the Nakk the Thunderer in Nagrand;
Bloodhoof Bull mount in your bag with a 100% guarantee;
any resources and items collected during the carry process.
Boost ETA: ~1-2 days.
Although we provide our top-notch carry services to all of our valuable clients we still kindly ask you to fulfill some of the essential service requirements.
Requirements:
50+ level;
no gear requirements.
In case you are currently not in possession of a high-level character eligible for a Bloodhoof mount boost you can try our fast power leveling service and get one in no time.
If, however, you have extra time on your hands and wish to camp this rare elite clefthoof on your own you should read the guide below to get some cool tips and tricks on mount farming.
How to get the Bloodhoof Bull fast in BFA or Shadowlands?
The process of getting the Bloodhoof Bull Warlord of Draenor mount is pretty straightforward. It is a 100% drop from a rare spawn Nagrand NPC - Nakk the Thunderer. It is a huge mount-like cleft hoof animal that is roaming around the river shore.
Bloodhoof Bull location in Nagrand Zone (WoD Expansion).
The main reason this mount is so rare is the spawn timer of this elite and the number of people desiring to kill it. The hunters also add to its rarity by trying to tame this huge beast. Nevertheless, here are some key points on how to get this WoD rare mount in BFA or Shadowlands:
the respawn timer of the Nakk the Thunderer is ~19-27 hours;
mount drops in a raid group, so you might want to get some friends on board;
the Bloodhoof Bull has a 100% chance to drop to everyone attacking it;
it can be farmed using the trial character method;
hopping the realms may help you to find this NPC faster;
there are only 3 variations of clefthoof mounts in World of Warcraft;
the Nagrand (WoD) zone should be unlocked to see the rare NPC.
If you are using the TomTom tracking addon these coordinates might be useful to camp the Nakk the Thunderer:
/way Nagrand:Draenor 62.8 15;

/way Nagrand:Draenor 64.8 20.6;

/way Nagrand:Draenor 60.4 31.2;

/way Nagrand:Draenor 50.4 34;

/way Nagrand:Draenor 54.8 35.6.
Despite the fact that camping and killing Nakk the Thunderer NPC might sound easy, it still requires a lot of your time, concentration, and most importantly luck. Being in the right place at the right time can get you this awesome mount but missing it a couple of times in a row can cost you 3 days of intense WoW playing time.
Therefore Boosthive offers you a time-saving opportunity. The professional Bloodhoof Bull mount carry service from a trained booster. This way you will enjoy riding this huge beast in shadowlands without even lifting a finger to get it.