Secrets of Azeroth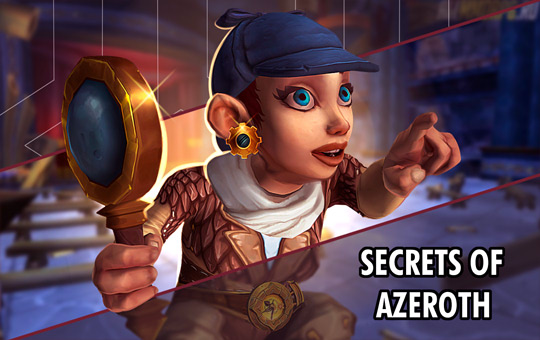 Secrets of Azeroth is a new community event in which players investigate rumors and search for hidden mysteries and treasures scattered across Azeroth. This world event takes place between August 30th and September 13th. Secrets of Azeroth boost is an easy way to earn all the rewards.
Buying Secrets of Azeroth achievements allows players to get Pattie mount, the Inquisitive title, and Tobias pet. There are also four achievements related to Secrets of Azeroth: Whodunnit? The Inquisitive, Community Rumors, and Community Rumor Mill. Purchasing our service guarantees that you get them all!
Boost takes: 13 days / Start time: 1 hour.
Secrets of Azeroth boosting rewards:
Alpaca ground mount - Pattie.
Title the Inquisitive.
Battle pet - Tobias.
Completion of the 4 following achievements:
Blue Tweed Cap & Brown Tweed Cap transmog.
Toys: Tricked-Out Thinking Cap, Torch of Pyrreth & Idol of Ohn'ahra.
This event only lasts for 2 weeks and new secrets are expected to be revealed each day. We offer to buy Pattie mount along with Secrets of Azeroth achievement for everybody who don't want to stress doing everything in a short time period.
Before ordering Secrets of Azeroth achievements and rewards, please have a look at the basic requirements for this type of service.
Requirements:
70 level;
Secrets of Azeroth event active;
this service is piloted.
Buying Pattie during Secrets of Azeroth
The most wanted reward during this treasure-seeking event is a new alpaca mount called Pattie. This cutie is only available for those you manages to uncover all the secrets. Plus players need to finish multiple tasks and questlines. We also expect that new treasure hints won't be available right from the start. Each new secret is uncovered every day at the appointed time.
This service helps players:
get Pattie mount and other rewards;
don't stress about missing something important;
avoid logging every day if you don't want too;
save a lot of time.
In case you have any questions before purchasing Secrets of Azeroth and, especially, Pattie alpaca, do not hesitate to contact our game experts. We are available 24/7 via online-chat, or Discord. Contact us as well if you've finished a big part of Secret of Azeroth achievement as well - we will make a custom deal.