Renewed Magmammoth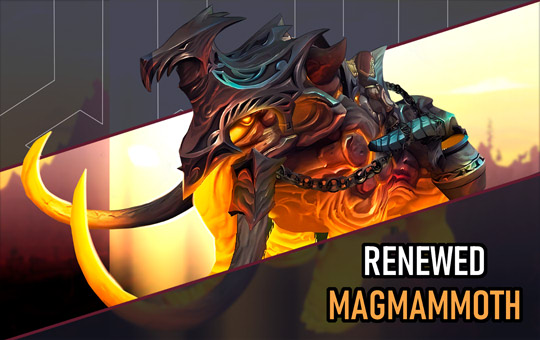 Selling Renewed Magmammoth - a new Dragonflight mount added in Patch 10.1.7. Players can craft it with Charred Elemental Remains that drop from Dreamsurge events on the Dragon Isles. No need to waste hours farming Renewed Magmammoth from Dreamsurges - our team will get it for you while you enjoy your free time.
Players need to collect x20 Charred Elemental Remains and combine them to get a Renewed Magmammoth mount. These items only drop from Fire Lieutenants. Players have to complete dozens of Dreamsurges in order to gather enough items. Simply buy Renewed Magmammoth for a cheap price and get this ancient beast in the shortest time possible.
Start time: 30 minutes / Boost takes: 10-12 hrs.
WoW Renewed Magmammoth mount boost includes:
Dreamsurge events completed every 30 mins.
x20 Charred Elemental Remains farmed.
Renewed Magmammoth mount.
Some Dreamsurge Coalescences.
Chance to get 402 catch-up gear (can be used for twinks).
We offer Renewed Magmammoth for sale for all players on EU & US servers. If you value your free time and want to spend it with your friends or family instead of farming Renewed Magmammoth, this service is just for you.
Requirements:
level 60+;
this service is piloted.
How this service works?
Renewed Magmammoth boosting service is very simliar to Gooey Snailemental from the Forbidden Reach. Here is a quick step-by-step guide on the whole process.
Proceed to checkout to make an order.
You will see character info fields after finishing the payment.
We will contact you within 3-7 minutes to set everything up.
Our team will log onto your character every 30 minutes to defeat the final Dreamsurge boss and get reagents for mount crafting.
After we get x20 Charred Elemental Remains, we will create Renewed Magmammoth for you!
That's it! In case you have any questions before purchasing Renewed Magmammoth from us, do not hesitate to contact our friendly game experts via online-chat, or Discord. We work 24/7 and will be happy to answer all the questions or provide a custom offer on request.
How to get Renewed Magmammoth?
If you want to know how to obtain this mount instead of buying Renewed Magmammoth from us, here is a short guide:
Find a Dreamsurge mark on the Dragon Isles map (one of 4 main zones).
The event starts every 30 minutes. It will be shown as a big flame portal on the zone map.
Finish the event and defeat the Fire Lieutenant at the end.
Loot Charred Elemental Remains.
Repeat the steps until you collect x20 Charred Elemental Remains.
Combine the Remains to loot Renewed Magmammoth.
Or you can always buy Renewed Magmammoth from our store if you get bored by doing the same thing over and over again.