Paracausal Flakes Farm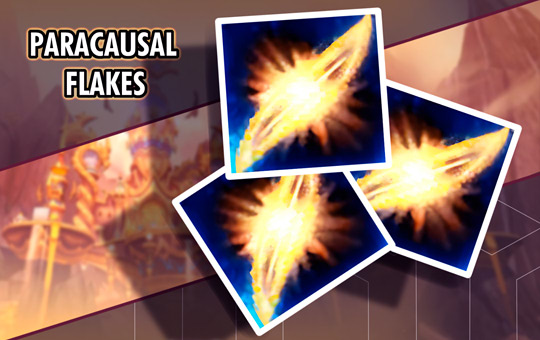 WoW Paracausal Flakes is a new currency added in Dragonflight patch 10.1.5 that is farmed from completing Time Rifts in Fractures of Time. Paracausal Flakes Paracausal Flakes are used to buy many cosmetic rewards, mounts, and pets from Tyrhold Reservoir vendors.
Paracausal Flakes farm is a quick and easy way to get as much of this currency as you need to purchase all the most-wanted rewards. You don't have to waste time on a lengthy grind when you can buy Paracausal Flakes here at Boosthive.
Boost takes: ~500 Flakes per hour. Start time: 1 hour.
Paracausal Flakes boost includes:
Desired number of Paracausal Flakes (1'000-50'000).
Time Rift activities completed.
Chance to get random time rift rewards during the service.
We will need to log in every hour to finish Rifts for you thus gaining enough currency in the process. We offer WoW Paracausal Flakes for sale for all EU & US players who meet the following requirements.
Requirements:
70 level;
this service is piloted only.
There is no cap on how many Paracausal Flakes can be farmed each week. This means that you can get a ton of them really fast to ensure all these nice rewards are yours. There are no other prerequisites in order to buy Paracausal Flakes rewards (no reputation or anything else).
The fastest way to get Paracausal Flakes
If you're seeking the fastest way to get Paracausal Flakes in Dragonflight, look no further than Boosthive. If you don't want to farm them for hours or days, and simply want to enjoy the cosmetics much faster and without hassle, this service is exactly what you are looking for.
We use various methods, such as running Time Rifts every hour, completing a weekly quest, and grinding mobs in Fractures of Time to ensure the quickest Paracausal Flakes farm. If you want to learn more about how to grind Paracausal Falkes in WoW and want to try it on your own, we've prepared a short guide down below.
How to farm Paracausal Flakes in Dragonflight?
Paracausal Flakes are obtained as rewards from new activities called Time Rift, as well as Dawn of the Infinite mega-dungeon. Simply defeat enemies from different timelines and complete the objectives during the ongoing Time Rift.
Pretty much any activity from patch 10.1 will award players with few Paracausal Flakes. But in order to claim all mounts, transmogs, and pets from the vendors, players will have to collect a tremendous amount of those (over 100k).
If you have any inquiries about Paracausal Flakes boosting or wish to customize your order by including other services, feel free to reach out to us. Our customer service team is available 24/7 via live chat on our website, as well as through Discord and Skype. We are always ready to answer your questions and make your Dragonflight experience more enjoyable.