Nighthold Transmog Sets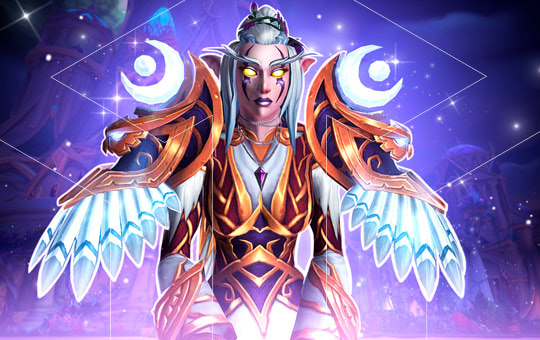 Tier 19 armor set boost is the fastest way to gather full Nighthold transmog for a chosen class. Some of these appearances look really cool, especially for DKs, paladins, shamans, and druids. However, due to bad scaling, players might still struggle to do Nighthold transmog runs solo even in the current expansion.
Boosthive is the right place to buy Nighthold transmog for any class and from any difficulty (LFR, normal, heroic or mythic). Our boosting team will do weekly Nighthold runs and farm all 9 pieces to get a full T19 set appearance and achievement.
T19 Nighthold transmog boost includes:
Full Nighthold class armor appearance from chosen difficulty.
Achievement That's so Last Millennium.
Some raid achievements (depends on chosen difficulty).
Other loot that drop during the service.
Boost takes: 2-6 weeks.
Several Nighthold clears are usually needed to collect full Nighthold class armor set. The team will continue to do run until the character gets all 9 pieces from any difficulty.
Before buying T19 transmog set from Nighthold, please check the minimum requirements.
Requirements:
70 level;
no gear requirements;
this service is piloted only.
Buying Nighthold Class Transmog Set
Tier 19 armor farming service is very simple and straightforward. After placing an order, our managers will contact you to clear all the details before starting the service. After everything is set, the team will do Nighthold runs every week at convenient timeframes to gather full Nighthold transmogrification for your class.
If you character is not geared enough - don't worry! Team members will invite their own geared toons to pump the bosses. Also if you have alts of the same class (for example, 2 DKs) on the same battle-net account, the team will do transmog runs on both to speed up Tier 19 Nighthold transmog boosting.
Nighthold Transmog Sets Boosting Advantages
We understand that there are always some Nighthold transmog runs in Premade group finder. So one might wonder - why should you buy Nighthold transmog farm service? We have a clear and definite answer to that!
Doing Nighthold runs with pug groups has one major disadvantage. All Legion raids are using Legacy loot rules, meaning that every Nighthold boss drops 5 items that are spread randomly across all raid members. That means that you might even not get a single item from a boss if the pug group is big. That's not the case with our Nighthold transmog service where we trade all transmogable loot appropriate for the class directly to you. That results in faster acquisition of a full appearance.
In case you still have any questions, do not hesitate to contact us in online-chat, skype, or discord. Support managers work 24/7 and always ready to help with any difficulties or provide a custom service when needed.
Tier 19 Transmogs Available for Sale
Here is the full list of all Nighthold class armor sets that you can buy in our store.
| | |
| --- | --- |
| Class | Set name |
| Death Knight | Dreadwyrm Battleplate |
| Demon Hunter | Vestment of Second Sight |
| Druid | Garb of the Astral Warden |
| Hunter | Eagletalon Battlegear |
| Mage | Regalia of Everburning Knowledge |
| Monk | Vestments of Enveloped Dissonance |
| Paladin | Battleplate of the Highlord |
| Priest | Vestments of the Purifier |
| Rogue | Doomplade Battlegear |
| Shaman | Regalia of Shackled Elements |
| Warlock | Legacy of Azj'Aqir |
| Warrior | Warplate of the Obsidian Aspect |
You can inspect any set in the dressing room to see how it looks on certain classes/races.