Fossilized Raptor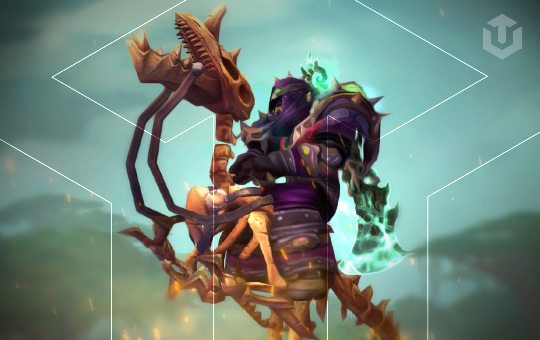 The Fossilized Raptor is a rare archeology mount that requires x100 vanilla fossil fragments to be collected. Archaeology Raptor is a random proc artifact therefore it can take hours to make it available. That is why buying the Fossilized Raptor will allow you to save on playing time and get epic World of Warcraft ground mount in the most efficient way.
To speed up the process we will use the most experienced WoW archeology farmer to complete Fossilized Raptor carry service.
Boost takes ~7 days.
We allocate a week for this service to deliver with a 100% guarantee of order completion. It can take less than that. Additionally, we will provide you with some extra features to this boost to make this process as smooth and enjoyable.
WoW Fossilized Raptor boost includes:
To get all the above-mentioned perks of this awesome Fossilized Raptor boost you will need to qualify for some of our requirements. Check them out below before ordering this carry.
Requirements:
35 level character;
active wow subscription.
If you have such a character and a lot of free time on your hands you can always try to attempt getting this unique mount yourself taking the below-listed tips into consideration.
How to get the Fossilized Raptor fast in BFA or Shadowlands?
The Fossilized Raptor is a totally bad-ass looking archeology mount but it is also not an easy one to get. It requires a lengthy farming process and a lot of playing time wasted on such secondary profession as archeology. Here is a set of tips that can help you to get Fossilized Raptor quicker:
there is no minimum skill requirement to unlock the mount artifact;
most of the time is procs only after 225 skill points in Archeology;
to speed up the process you might want to get 600 points in archeology;
getting exalted with the Lorewalkers also helps;
you can level up any type of archeology artifact and trade it at the Seat of Wisdom;
use Lorewalker's Map provided by Lorewalker Cho to refresh the map of dig sites;
farm the easiest sites and exchange artifact pieces into the fossil ones;
hope for an RNG and get your Fossilized Raptor.
Although those World of Warcraft archeology tips and tricks might help you to make the farm process faster it can still take days to finish and get your final reward. However, there is always a faster and more reliable option. Why would you bet on random from when you can get a Fossilized Raptor carry service from Boosthive and get it with a 100% guarantee without breaking a sweat.