Eastern Kingdoms Cup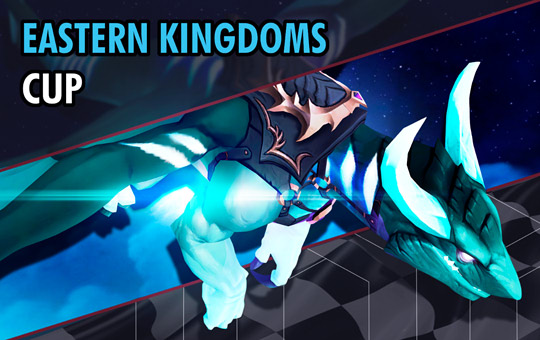 Eastern Kingdoms Cup is the newest dragonriding event where riders of Azeroth compete in dragon races across Eastern Kingdoms. This world event will take place from October 4th to October 17th. Eastern Kingdoms Cup boost is a service that helps to get Eastern Kingdoms Racing Competionist: Gold achievement and earn all time-limited prizes.
Buying Eastern Kingdoms Racing Completionist achievement awards players with Eastern Kingdoms Racer title. There are 14 tracks available across Eastern Kingdoms. Our team will do them in normal, advanced & reverse modes with Gold results to ensure that you get Eastern Kingdoms Cup achievement and related rewards in no time.
Boost takes: 7-8 hours / Start time: 30-50 minutes.
Eastern Kingdoms Racing Completionist boost rewards:
Eastern Kingdoms Racing Completionist: Gold achievement with 110 points.
x14 Eastern Kingdoms races completed: normal, advanced & reverse.
Eastern Kingdoms Racer title.
x126 Riders of Azeroth Badge.
Dragonriding Manuscripts connected with this event.
Eastern Kingdoms event only lasts for 2 weeks and there are lots of tracks to conquer in many zones. So there is little time to finish them all and obtain all the rewards. We offer you to buy Eastern Kingdoms Grand Prix achievement boost in case you don't have time for doing tons of races.
Before ordering Eastern Kingdoms Completionist meta-achievement, please have a look at the basic requirements for this type of carry.
Requirements:
level 70;
Eastern Kingdoms Cup event active;
this service is piloted;
all Dragon glyphs unlocked.
Where are Eastern Kingdoms races?
Talk with Lord Andestrasz by the Rostrum of Transformation in Valdrakken to start Eastern Kingdoms Cup and get introduction quest. While the event is ongoing, various races take place across different zones of Eastern Kingdoms. Participants are provided with basic-colored Riders of Azeroth Drake mounts and are tasked with completing 14 tracks.
We will boost all x14 races in Eastern Kingdoms:
Gilneas Gambit in Ruins of Gilneas;
Searing Stalom in Searing Gorge;
Deadwind Derby in Dreadwind Pass;
Gurubashi Gala in Northern Stranglethorn;
Blasted Lands Bolt in Blasted Lands;
Booty Bad Blast in Cape of Stranglethorn;
Krazzworks Klash in Twillight Highlands

Loch Modan Loop in Loch Modan;
Twillight Terror in Twillight Highlands;
Elwynn Forest Flash in Elwynn Forest;
Ironforge Interceptor in Dun Morogh;
Plaguelands Plunge in Eastern Plaguelands;
Fuselight Night Flight in Badlands;
Reidridge Rally in Redridge Mountains.
All races are displayed on the map while you're in the zone. Now let's have a look at how Eastern Kingdoms carry works and what rewards you get from this service.
WoW Eastern Kingdoms Cup rewards
For each race completed, participants earn varying amounts of Riders of Azeroth Badges, which serve as the primary event currency. These badges can be used to purchase rewards related to dragon racing Cups from the vendor located in Valdrakken.
Here's the badge distribution:
Bronze (1 Rider of Azeorth Badge);
Silver (2 Rider of Azeorth Badge);
Gold (3 Rider of Azeorth Badge).
Players can acquire a maximum of 3 Badges for each difficulty level, totaling 9 Badges if they complete all courses in normal, advanced, and reverse difficulties. By finishing all the races in Eastern Kingdoms, players will get a total of 126 Badges. This amount is more than sufficient to claim all the rewards once the Eastern Kingdoms dragon racing boost finishes.
If you have any inquiries prior to purchasing the Eastern Kingdoms Dragon Racing completionist achievement and its associated rewards, don't hesitate to reach out to our gaming specialists via Online chat or Discord. We're accessible around the clock and fully prepared to assist you.