Dreamsurge Coalescence Farm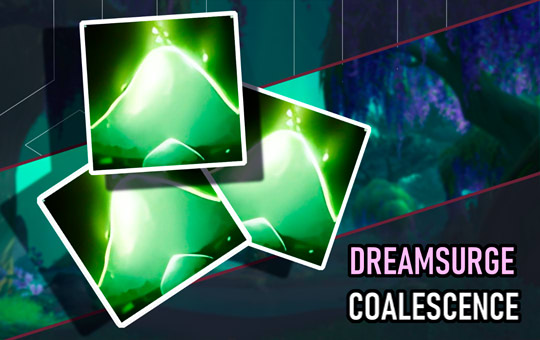 WoW Dreamsurge Coalescence boost is a farming service to get any amount of Dreamsurge Coalescences currency dropped from Dreamsurge events in Dragonflight patch 10.1.7. Players can use Dreamsurge Coalescence to buy catch-up gear, battle-pets and several cosmetic rewards new event vendor - Celestine of the Harvest.
Dreamsurge Coalescence currency is farmed by completing world quests, defeating rares, finding flowers and closing Major Waking Portals during the ongoing event. Every activity in the affected area will reward with this currency. In case you don't want to waste time or simply want to speed up the process - simply buy any amount of Dreamsurge Coalescence from us.
Start time: 20-30 minutes / Boost takes: ~500 currency per 1 hour.
WoW Dreamsurge Coalescences farming includes:
Desired number of Dreamsurge Coalescence (1'000-5'000).
Dreamsurge activivites completed.
Chance to get random Dreamsurge rewards during the service.
Chance to get Charred Elemental Remains (used to create a mount).
Our team will finish any available activity (world quests, rares, zone events etc.) thus gaining enough currency in the process. We offer WoW Dreamsurge Coalescence for sale for all EU & US players who meet the following requirements.
Requirements:
70 level;
this service is piloted only.
There is no cap on how many Dreamsurge Coalescences can be grinded on one character during the week. However, players cannot trade this currency between any characters and it takes one additional slot in your bags.
Fastest way to get Dreamsurge Coalescences
Use our service for the most efficient way to acquire Dreamsurge Coalescence in Dragonflight. Skip the hours or days of farming and swiftly enjoy the catch-up gear for your twink or several cosmetics hassle-free. For faster Dreamsurge Coalescence farming in Fury Incarnate patch, our methods include:
zone world quests completion;
looting special treasure flowers;
closing Major Waking Portals;
defeating empowered rares.
For any questions regarding Dreamsurge Coalescence boosting or to personalize your order with additional services, don't hesitate to contact us. Our 24/7 customer support is available via live chat, or Discord. We are dedicated to enhancing your Dragonflight experience.