X-51 Nether-Rocket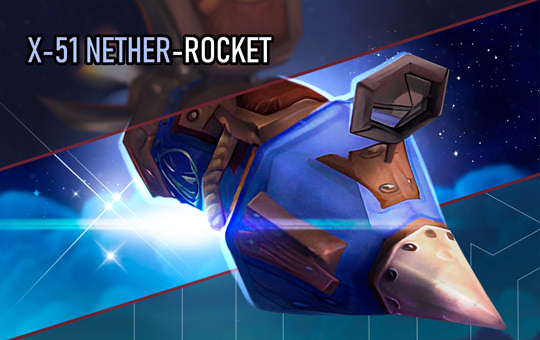 Purchase an X-51 Nether-Rocket (Blue), an unparalleled TCG mount that will set you apart as a true collector in the world of Azeroth. This extraordinary mount can only be obtained through the "Servants of the Betrayer" expansion of the WoW Trading Card Game.
Buy the Blue Nether Rocket here at Boosthive, and then redeem a unique 25-digit code on a special Promotion Page to receive your mount. Our cheap price for the X-51 Nether-Rocket is unbeatable and is hard to come by elsewhere.
Delivery time: ~2 hours.
You will receive:
Rare flying mount - X-51 Nether-Rocket (Blue).
A secure and protected transaction.
You can buy Blue Nether Rocket on all EU realms. However, before finalizing your order, we advise reviewing the minimum requirements to guarantee a seamless experience.
Requirements:
EU servers only;
this service is piloted.
X-51 Nether-Rocket for sale
Embrace the uniqueness of the Blue Nether Rocket as it gets the attention of your fellow WoW players. With an ownership percentage of just 1% of the player base, becoming the proud owner of this mount will elevate your collection to new heights.
Delivery time is fast and takes just 2 hours on average when you buy Blue Nether Rocket here at Boosthive. We will ensure a secure and protected transaction throughout the whole process.
Buying the Blue Nether Rocket will speak volumes about your status as a player and a collector. If you want to stand out from the crowd, this TCG mount is the ultimate choice for you.
How it works?
Wondering what you need to do in order to buy a Nether-Rocket X-51? Allow us to guide you through this easy and straightforward process step by step.
Ensure you are playing on EU realms.
Proceed to the checkout page.
Complete the payment and provide your contact information.
Within 3-7 minutes, our manager will reach out to you to confirm all the necessary details.
Using a ONE-TIME digit code on your account, we will redeem the item.
Learn the mount, and it will become accessible to all characters on your account.
That's all it takes to claim this glorious mount! If you have any inquiries before purchasing the X-51 Nether-Rocket from our store, we encourage you to reach out to our dedicated live support team, available 24/7 through our online chat, Discord, or even Skype. They will be glad to assist you in making an informed decision and ensuring your satisfaction with the order. Make your WoW journey more enjoyable together with Boosthive!