White Riding Camel - TCG Mount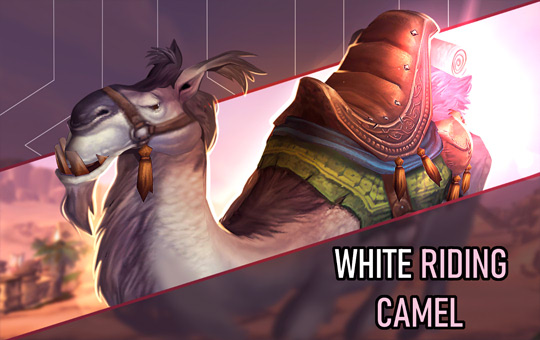 Here you can purchase White Riding Camel, a rare gem among TCG mounts. It will elevate you to a league above the rest in the world of collectors. This extraordinary mount can only be acquired through the "Tomb of the Forgotten" expansion of the WoW Trading Card Game. Buy a White Riding Camel today and receive this mount to expand your collection. Redeem a unique 25-digit code on the Promotion Page after buying White Riding Camel here at Boosthive.
We offer an unbeatable price for this magnificent mount with our cheap offer. White Riding Camel is limited to just 1% of WoW players, which means that becoming the proud owner of this majestic steed is extremely rare.
Delivery time: ~2 hours.
You will receive:
Epic ground mount - White Riding Camel.
A secure and protected transaction.
We offer a White Riding Camel for sale on all EU realms, however, we recommend familiarizing yourself with the minimum requirements before making a purchase.
Requirements:
EU servers only;
this service is piloted.
White Riding Camel for sale
Owning the White Riding Camel will make you stand out of the crowd. If you want to buy the White Riding Camel, but are unsure what to do we have prepared this detailed step-by-step guide to assist you.
How doest it work?
Ensure you are playing on EU realms.
Proceed to the checkout page.
Complete the payment and provide your contact information.
Within 3-7 minutes, our manager will reach out to you to confirm all the necessary details.
Using a ONE-TIME digit code on your account, we will redeem the item.
Learn the mount, and it will become accessible to all characters on your account.
And that's it, this remarkable mount awaits you! If you have any questions about buying the White Riding Camel from our store, feel free to ask for assistance from our live support team. They are available 24/7 through our online chat, Discord, and even Skype, and will be delighted to provide answers and guidance. Make your WoW gameplay more enjoyable together with Boosthive!