Night Elf Heritage Armor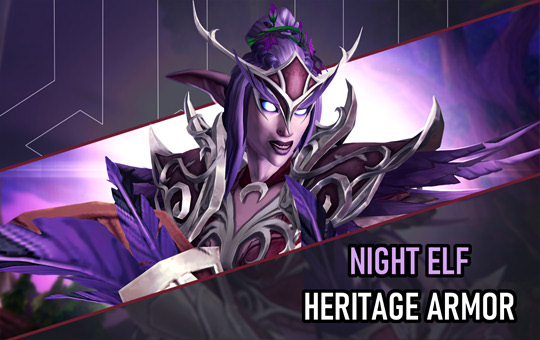 Night Elf Heritage armor unlock is a fast service to get Kaldorei Protector's Adornment that gives access to racial cosmetic set for Night Elves in WoW. This transmog was added in Dragonflight patch 10.1.7 and it looks similar to the original set from the classic cinematic. Buy Night Elf heritage armor from us to get it without wasting any time on questing.
Getting Night Elves Heritage armor set boost is a perfect solution for all the players who want to get this Night Elves transmog as quickly as possible without having to go through the boredom of questing. During our Night Elf heritage armor unlocking service we will complete the whole storyline that starts with a quest called "The Clarion's Call". It can be found in Stormwind Embassy.
Start time: 20-30 minutes / Boost takes: 2-3 hours.
WoW Night Elf Heritage Armor boost includes:
Night Elf Heritage transmog set:

includes: feet, chest, waist, shoulder, hand, legs & wrist.

New title for Night Elves - Ama'shan.
Done manually by hand.
Note: Night Elf character of level 50 or above is required for this service. Unlike allied races, Night Elves heritage armor can be unlocked on toons that were leveled through in-game services or race/faction change. Please check the requirements before buying Night Elf heritage armor set.
Requirements:
level 50+ night elf;
this service is piloted.
How to buy Night Elf Heritage armor?
Similar to other heritage armor sets, the Night Elf heritage armor can be obtained by completing quests. However, if you're not inclined towards questing, you also have the option to purchase the Night Elves Heritage Armor from us. Here is how the whole boosting process works.
Proceed to checkout to finish your order.
You will see character info fields after making the payment.
Our managers will contact you within 3-7 minutes.
We will set everything up ready for the boost.
The team logs onto your Night Elf character and finish all necessary quests.
That's it! Enjoy new transmog for your Kaldorei.
If you need clarification or wish to enhance your order, feel free to contact us. Our 24/7 support team is here to help via live chat, or Discord. Enhance your Night Elf transmog collection with Boosthive today!