Ghastly Charger's Skull - TCG Mount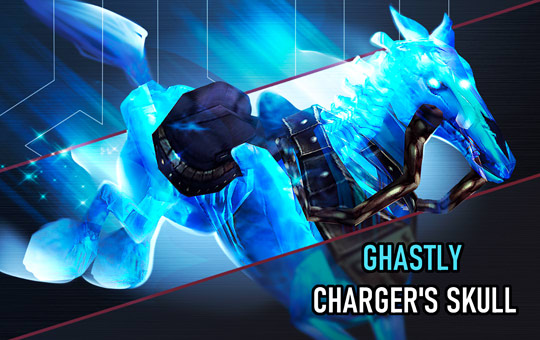 Purchase Ghastly Charger's Skull mount from WoW TCG and expand your collection with this dead horse. This legendary and awe-inspiring mount is exclusively available through the WoW Trading Card Game expansion "Betrayal of the Guardian"
To obtain this mount, simply buy Ghastly Charger's Skull here at Boosthive and redeem a unique 25-digit code on the Promotion Page to claim it. Our unbeatable price brings this mount within your reach, making it a great addition to any enthusiast's collection. As of now, only 2% of WoW players possess this skeletal horse, making it very rare.
Delivery time: ~2 hours.
You will receive:
Epic ground mount - Ghastly Charger's Skull.
A secure and protected transaction process.
We offer Ghastly Charger's Skull for sale on all EU realms. However, please make sure to review the minimum requirements before making your purchase.
Requirements:
EU realms only;
this service is piloted.
Ghastly Charger's Skull FAQ
Buying the Ghastly Charger's Skull mount will undoubtedly set you apart from other collectors. If you're interested in acquiring this prestigious mount but unsure of the process, fret not! We've prepared a detailed step-by-step guide to assist you.
How it works:
Ensure you are playing on EU realms.

Proceed to the checkout page.
Complete the payment and provide your contact information.
Our manager will contact you in 3-7 minutes to confirm all details.
Using a ONE-TIME digit code on your account, we will redeem the item.
Learn the mount, and it will become accessible to all characters on your account.
That's it! The grand and mighty Ghastly Charger's Skull will be yours. If you have any questions about purchasing the mount from us, our live support team is available 24/7 through online chat, Discord, and Skype. We are always ready to help and provide answers to any of the questions that you might have. Make your WoW gameplay even more enjoyable with the addition of the Ghastly Charger's Skull from Boosthive!