Feldrake - TCG Mount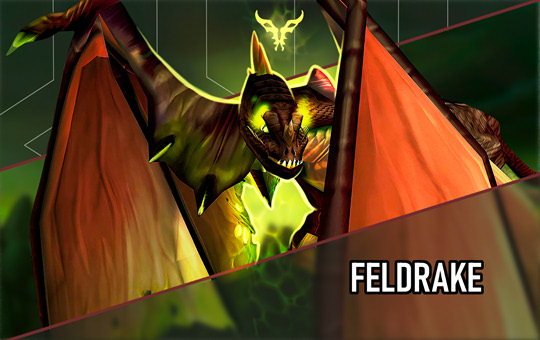 Here you can buy a Feldrake TCG mount. It will set you apart as a true collector in the vast world of Azeroth. This extraordinary flying mount can only be acquired through the "Timewalkers: War of the Ancients" expansion of the WoW Trading Card Game.
At Boosthive, you can purchase Feldrake and unlock its uniqueness for yourself. Simply redeem a special 25-digit code on the Promotion Page after your purchase, and within approximately 2 hours, you'll be soaring on your newly acquired Feldrake. Our affordable price makes it the best way to obtain this mount.
Delivery time: ~2 hours.
You will receive:
An epic flying mount - Feldrake.
A secure and protected transaction.
We offer the Feldrake for sale on all realms. However, before you finalize your order, please ensure to review the minimum requirements for this service.
Requirements:
EU & US servers;
this service is piloted.
With only 2% ownership among players, the Feldrake is a truly unique acquisition that will catch the attention of your fellow WoW enthusiasts.
Feldrake FAQ
Curious about the process of acquiring the Feldrake? Let us guide you through this straightforward process step by step.
How it works?
Ensure you are playing on EU or US realms.
Proceed to the checkout page.
Complete the payment and provide your contact information.
Within 3-7 minutes, our manager will reach out to you to confirm all the necessary details.
Using a ONE-TIME digit code on your account, we will redeem the item.
Learn the mount, and it will become accessible to all characters on your account.
And it's done! The glorious Feldrake will be yours! If you have any questions before purchasing the Feldrake from our store, our dedicated live support team is available 24/7 through online chat, Discord, or Skype. They will be delighted to assist you in making an informed decision and ensuring your satisfaction with the order. Elevate your WoW journey with Boosthive!