Diablo 4 Whispers Achievements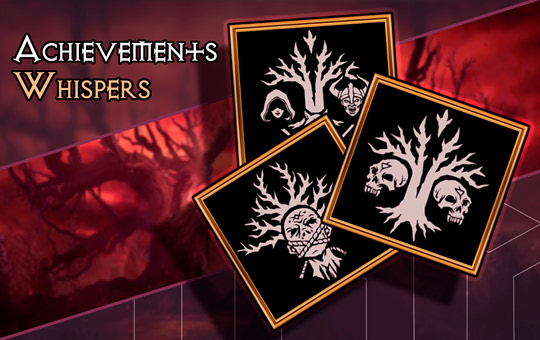 Diablo 4 whispers achievement boost is a fast and easy way to unlock any whisper challenges in D4. There are a total of 6 whispers-related challenges in D4, however, while there aren't many of them, they still require a massive time investment to complete. D4 whisper achievements boosting is a service that will handle everything for you quickly and efficiently.
Forget about having to grind silent offerings or completing whispers over and over because we've got you covered. Buy whispers achievements in Diablo 4, relax and enjoy the rewards!
Start time: 1-2 hours / Boost takes: ~1-3 days
Diablo 4 Whisper challenges carry include:
Completion of desired Whisper challenges.
Tree of Whispers Supplicant completion.
Tree of Whispers Aspirant completion.
Tree of Whispers Devotee completion.
Just Reward completion.
Various challenge-dependent titles.
Available on Seasonal & Eternal realms.
Before you buy Diablo 4 Whispers achievements, please make sure to take a look at the basic requirements for this service.
Requirements:
Diablo IV on Xbox/Playstation/PC;
story campaign completed;
Tree of Whispers unlocked.
Tree of Whispers achievement boost
D4 whisper challenges service is here to help with the completion of all achievements related to this new mechanic in the Diablo series. Tree of Whispers is unlocked by completing the main story of the game, reaching level 50, and heading to Hawezar. This will unlock a quest called Whispers of the Dead. Collect 10 Grim favors and this new system will be unlocked.
Here we have compiled a list of all whisper achievements for boosting in D4. This list also includes the rewards you will receive from them
| | | |
| --- | --- | --- |
| Achievement | Description | Rewards |
| Whisper Novice | Complete a Whisper | Titles: Apprentice; Traveler |
| Whisper Expert | Complete a Whisper of each type | Titles: Bewitching, Reaper |
| Tree of Whispers Supplicant | Complete a Silent Offering for the Tree of Whispers | Titles: Bitter; Mercy |
| Tree of Whispers Aspirant | Complete 25 Silent Offerings for the Tree of Whispers | Titles: Committed; Aspirant |
| Tree of Whispers Devotee | Complete 100 Silent Offerings for the Tree of Whispers | Titles: Dedicated; Devotee |
| Just Reward | Receive each type of cache from the Tree of Whispers | Titles: Bejeweled; Bounty |
As you can see there is a ton to do in order to complete this category of challenges and receive all the rewards it provides. There are many various types of whispers and rewards, so collecting all of them might prove time-consuming and frustrating, especially considering that rewards are randomized.
If you don't feel like dealing with this or simply want to save your time - our D4 whisper challenge bosting is exactly what you are looking for. Simply buy a whisper achievement that you would like taken care of, relax, and enjoy!
If you have any questions regarding Diablo 4 whisper achievement carry or want to add something extra to your order - don't hesitate to reach out. Our customer service team is available 24/7 and is always ready to provide assistance. You can contact us via Discord, Skype, or live chat here on the website. Enhance your Diablo IV experience together with Boosthive!