Diablo 4 Open World Achievements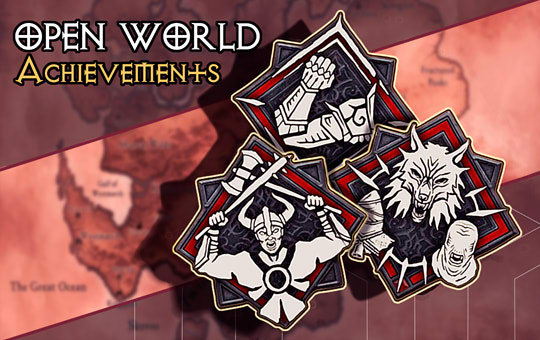 Diablo 4 Open-world achievement boost is a fast and easy way to complete the most difficult open-world challenges in D4. Hunt rare monsters, kill world bosses, and explore the world of Sanctuary without having to grind to prepare. Simply buy D4 open world achievement boosting, relax, and enjoy as our professional players do all of this for you.
There are hundreds of open-world achievements in D4 and all of them are available for sale. Here you can buy a Diablo 4 open world achievement boost for the most difficult challenges in the game. However, if you want to get one that isn't listed on our website - simply let us know and we will make it happen!
Start time: 40-50 minutes / Boost takes: 1-3 days.
D4 open-world achievement boost includes:
Open world achievements of your choice completed.
World Traveler completed.
World Boss Challenger completed.
World Boss Slayer completed.
Trophy Hunter completed.
Various titles unlocked (see below).
Available on Seasonal & Eternal realms.
Before buying D4 open-world challenges, please make sure to take a quick look at the basic requirements for this service.
Requirements:
Diablo IV on PC/Xbox/Playstation;
level 50+;
story campaign completed.
Please keep in mind that these requirements are designed for open-world achievements mentioned above, and if you are ordering a custom achievement requirements may differ.
D4 open world achievements for sale
If you ever wanted prestigious rewards for completion of Diablo IVs open-world achievements, but never had enough time or motivation in order to get it done - this service is exactly what you are looking for. No need to go through the headache of tracking down and preparing for world bosses and other challenges, as our team of professional players has got your back.
Simply buy any D4 open-world challenge that you would like to receive and enjoy quick and efficient completion. We have compiled the list of achievements that can be the most difficult for players to take a crack at and require the most preparation.
| | | |
| --- | --- | --- |
| Challenges | Description | Rewards |
| World Traveler | Visit each region of Sanctuary | Titles: Journeyed; Kindred. |
| World Boss Challenger | Kill a World Boss | Titles: Crushing; Dominance. |
| World Boss Slayer | Kill every single World Boss | Titles: Titan; Toppler. |
| Trophy Hunter | Kill all 15 super unique monsters | Titles: Merciless; Pursuer. |
Some open world challenges on this list can make even the most experienced Diablo player spend a ton of time. It is especially true for the Trophy Hunter challenge, as tracking down super rare demons is grueling and requires a big time investment. Buy D4 open world achievements here at Boosthive and forget about having to go through all this hassle yourself, as we can do it for you.
If you want to order a specific open-world challenge but can't find it on the website, simply let us know and we will create a custom order with your specific achievement. You can contact us via Discord, Skype, or even live chat here on the website. Our customer service team is available 24/7 and is always ready to assist. Enhance your Diablo IV experience today with Boosthive!