Diablo 4 Hardcore Achievements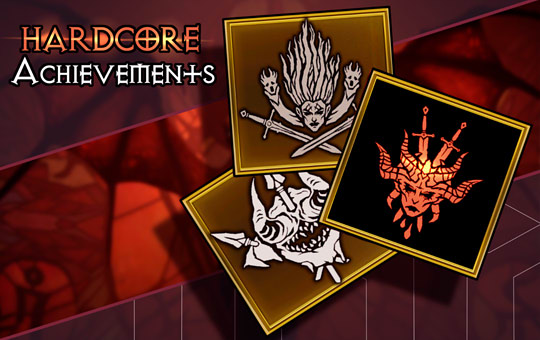 Diablo 4 Hardcore achievement boosting is a service for completing Diablo 4 challenges on Hardcore difficulty. Selecting Hardcore difficulty in this game is no joke because dying a single time means that the character will be gone forever.
Because of these perma-death mechanics, it can be extremely nerve-wracking to face bosses and unlock achievements associated with them, but we've got you covered! Diablo 4 Hardcore challenges boost is a safe and easy way to unlock coveted rewards while greatly minimizing the risk of losing your character in the process.
Start time: 50-60 minutes / Boost takes: 1-5 days
Diablo 4 hardcore challenges boost includes:
Traveling Slayer completed.
Journeyed Slayer completed.
Slayer of the Butcher completed.
Slayer of Vanity completed.
Slayer of Anguish completed.
Slayer of Pain completed.
Slayer of the First Mother completed.
Various titles.
Available on Seasonal & Eternal realms.
Before you buy Hardcore achievements in Diablo 4, please make sure to take a quick look at the minimum requirements for this service.
Requirements:
Diablo 4 on PC/PlayStation/Xbox;
Hardcore character;
50+ level.
Diablo 4 Hardcore achievement boosting
Completing difficult challenges on hardcore difficulty will reward players with prestigious titles. Make everyone around you know that you have beaten the most difficult challenge in the game by receiving these titles! Our Hardcore challenge carry is a fast way to do so without having to risk hours upon hours of gameplay on hardcore difficulty.
Here is a list of titles and achievements that have to be completed in order to unlock them in hardcore mode.
| | |
| --- | --- |
| Hardcore achievement | Title rewards |
| Traveling Slayer | Worldly; Challenger. |
| Journeyed Slayer | Complete; Conqueror. |
| Slayer of the Butcher | Chamel; Chef. |
| Slayer of Vanity | Vain; Victor. |
| Slayer of Anguish | Anguished; Assailant. |
| Slayer of Pain | Pained; Protector. |
| Slayer of the First Mother | Succubus; Supplanter. |
As you can see there are a ton of prestigious awards awaiting. All there is left to do is to buy Hardcore Diablo IV achievements and let professionals take care of the rest!
Our players have decades' worth of experience with the Diablo series, as well as this genre in general. You can rest assured that your order will be completed quickly and efficiently. We never use 3rd party software, bots, or cheats to gain an unfair advantage, which greatly increases the safety and security of Hardcore achievement boosting in D4.
If you have any questions before buying Hardcore Challenge completion in Diablo 4 or want to add something extra to your order - don't hesitate to contact us. You can reach out to us directly via Discord, Skype, and live chat here on the website. Our customer service is available 24/7.