Diablo 4 Gems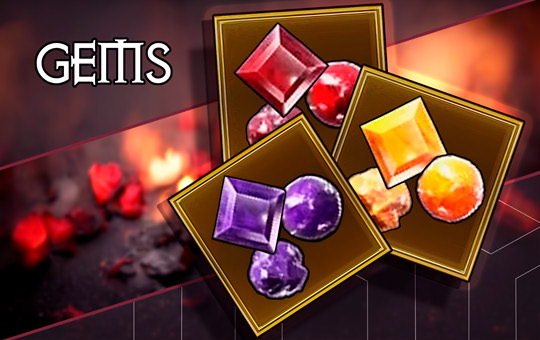 Diablo 4 Gems farm is a service that helps to obtain the desired number Gems that can be socketed into gear-slots. These are one of the most useful materials that allows players to upgrade gear even further by choosing various effects: increased damage, specific damage types, resistances and much more!
Buy Gems in Diablo 4 and forget about the long and tedious farming. We will get any number of Gems in the shortest time possible. You also can choose what Gems to farm as well as their Tier: Crude, Chipped, Normal, Flawless, Royal. Higher tier gems provide more valuable characteristics.
Delivery time: ~1-2 hours.
Buying D4 Gems includes:
Any number of Gems of desired quality.
Socket your gear after the boost is done.
Other loot, gold and materials that might drop during the service.
Available on Seasonal & Eternal realms.
We offer Diablo 4 Gems for sale on all platforms: PC, XBOX and Playstation. The service is performed manually without any bots or 3-d party programs. Before purchasing Gems in D4, please have a look at the basic requirements.
Requirements:
D4 main campaign completed.
How D4 Gems farm works?
We've prepared a short guide to make your purchasing process and experience much better. Here are all the steps:
Choose the number of Gems with a slider.
Pick the desired gems tier: from Crude to Royal.
Proceed to checkout to finalize the payment.
Our support managers will contact you within 3-7 minutes.
The team will set everything up ready for boosting.
We will farm the desired number of gems in the shortest time possible.
That's it! Enjoy new shiny gems to socket any gear after the service is finished.
Diablo 4 Gem Tiers explained
In order to perform gem upgrades, players have to reach certain thresholds. Here is the full breakdown:
| | |
| --- | --- |
| Tier upgrade | Required level |
| Crude to Chipped | 20 |
| Chipped to Normal | 40 |
| Normal to Flawless | 60 |
| Flawless to Royal | 70 |
If you have any questions before buying Gems in Diablo 4, please contact us via online-chat, or Discord. We will be happy to help with any difficulties or custom requests.