Diablo 4 Ancients' Oath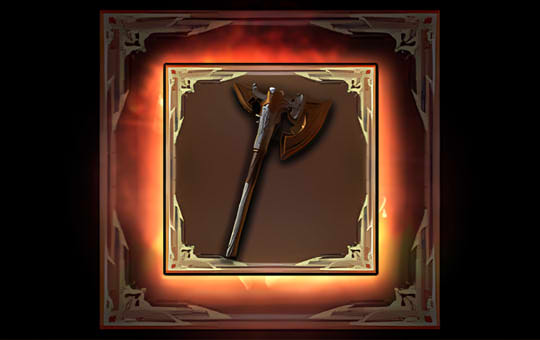 Purchase D4 Ancients' Oath - unique two-handed axe with 725 Item power and 1711 DPS. This two-handed axe can be used by Barbarians and Druids in Diablo 4. It drops with a unique effect that majorly improves the Steel Grasp ability. Save time and get this unique item in the shortest time possible because we offer an affordable price for Ancients' Oath for sale.
Buying Diablo 4 Ancients' Oath two-handed axe provides:
Unique item – Ancients' Oath guaranteed.
Some experience & Battle Pass progress.
Chance to get legendary, Sacred, and ancestral gear.
Chance to loot other unique items during the service.
Gold, materials, and other resources obtained during the boost.
Additional options:
Unlock World Tier 4 – pick this option if you haven't unlocked the Torment World tier on your character.
Add D4 campaign - select this if you didn't finish the main Diablo 4 story on any character on your account.
The delivery time may vary because the Ancients' Oath drop chance is very low and the whole process heavily depends on RNG. However, we will continue Ancients' Oath farming until the item drops for your character. There are some requirements that must be met before starting this service.
Requirements:
level 60+ character;
World Tier 4 unlocked;
D4 campaign completed;
this service is piloted only.
Diablo 4 Ancients' Oath Stats
Ancients' Oath drops with an effect unique to it, here is how it works.
Stats

Effect

725 item power
1711 DPS

Steel Grasp launches 2 additional chains. Enemies hit by Steel Grasp take [30 - 50]%[x] increased damage from you for 3 seconds.
How to Buy Ancients' Oath?
Choose the correct options: seasonal/eternal character & softcore/hardcore.
Click additional options (world tier unlock, D4 campaign) if you don't have them on your account.
Proceed to checkout and finalize the payment.
We will contact you within 4-7 minutes to confirm all details and set everything up ready for boosting.
The service will start at the appointed time.
Our team will farm D4 content (especially Nightmare dungeons) until the desired Unique item drops.
It may take some time because the process is heavily dependent on RNG. But we will farm Ancients' Oath until it drops.
That's it! Enjoy a powerful unique item for your character. In case you have additional questions before purchasing Ancients' Oath in our store, feel free to contact our managers via online chat or Discord. We're online 24/7 and always ready to help with any questions or provide custom offers.