Diablo 4 Ancestral items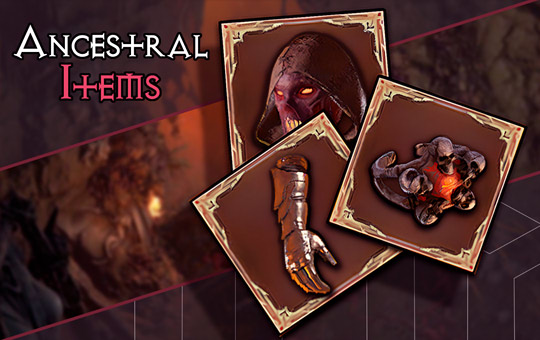 Buy our Diablo 4 Ancestral items farm service and acquire the desired quantity of powerful ancestral gear. Ancestral items in Diablo 4 are enhanced versions of regular loot that have a lower chance of dropping on World Tier 4. These items bestow additional stats and can empower any class, but they are challenging to obtain.
We offer affordable D4 Ancestral items for sale through our farm service. With this service, we will diligently farm the required number of Ancestral gear for your Diablo 4 character. You can specify the desired quantity using our convenient slider, and we will expedite the farming process to deliver the Ancestral items as quickly as possible.
Start time: 20-30 minutes / Boost takes: depends on chosen number items.
D4 Ancestral gear farm includes:
The specified number of Ancestral items you need.
A chance to acquire Ancestral items with useful stats.
Potential items for transmogrification purposes.
All gold and loot obtained during the service.
Some experience gains.
Available on Seasonal & Eternal realms.
Our Ancestral items farm service is available on Eternal and Seasonal realms. Please note that our service covers all platforms: PC, Xbox, and PS4/5. Before placing an order, ensure that you have completed the main campaign and meet the basic requirements for this service..
Requirements:
90+ level to equip Ancestral items;
World Tier 4 unlocked.
Additional options:
Unlock Tier 4 - we will unlock Nightmare and Torment World Tiers on your account by completing Nightmare Fallen Temple and Veteran Cathedral of Light.
Rest assured that our Diablo 4 Ancestral items farming is conducted safely without the use of hacks, cheats, bots, or any unauthorized software. We also employ VPN for added security during our services.
Buying D4 Ancestral items info
To purchase Ancestral items in Diablo 4, follow these steps to enhance your customer experience:
Select the desired number of Ancestral items.
Proceed to the checkout and complete the payment process.
Our team will contact you within 3-7 minutes.
Our game experts will set up everything for the farming process.
Once the service is completed, you will find the Ancestral items in your inventory.
If there are specific gear pieces you wish to buy but do not see them listed on our website, please contact us directly, and we will do our best to accommodate your request.
Should you have any further inquiries before buying Ancestral gear in Diablo 4, feel free to reach out to our game experts via our online chat or Discord. We operate 24/7 and are always ready to assist you with any difficulties you may encounter.