Victus XMR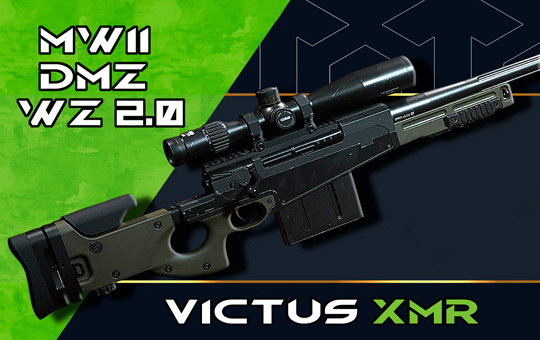 Discover the power of the Victus XMR with our dedicated Victus XMR unlock service. This quick boost grants players swift access to this elite sniper rifle across Modern Warfare II, Warzone 2, and DMZ. Renowned for its prowess at long distances, unlocking the Victus XMR can be time-consuming without assistance. Our Victus XMR boosting service guarantees a sniper rifle for your Operator in CoD Warzone 2, Modern Warfare II, and DMZ.
Victus XMR Access unlock will help you to acquire this rifle without stress. Elevate your gameplay by wielding the finest weapons – simply purchase Victus XMR from our store.
Start time: 30-40 minutes / Boost takes: 15-20 minutes.
CoD Victus XMR unlock includes:
Victus XMR sniper rifle unlocked.
Opportunity to secure keys within DMZ.
Accrue Military & Prestige rank experience.
Additional options:
unlock all attachments: Elevate the Victus XMR's potential by unlocking all mods for this current weapon;
unlock camo: Personalize your Victus XMR sniper rifle with unlocked skins of your choice;
stream: Witness the entire process through live streaming, showcasing each step of the service.
Note: Victus XMR Unlock is accessible within the DMZ. Our service also provides a selfplay option. Additional options are executed in piloted mode, which may extend the duration of the boost. Before purchasing Victus XMR Unlock, review the essential requirements for this service type.
Requirements:
DMZ access;
follow simple instructions from our team.
Victus XMR unlocking service
Unlocking the Victus XMR within Call of Duty presents several pathways. Once obtained, this sniper rifle seamlessly integrates into all gaming modes: Modern Warfare II, Warzone 2.0 & DMZ. Here are the methods for unlocking Victus XMR:
Complete the challenge in MW II.
Secure the weapon from another player within the DMZ.
Our team favors the second method due to its speed, and it can be accomplished through the self-play option.
How it works
Place an order and proceed to checkout.
Within 3 to 7 minutes, expect contact from our customer service team.
We'll arrange the boost.
Simultaneously log into DMZ with our team.
Our player will drop the Victus XMR, awaiting your collection.
Unlocking Victus XMR is remarkably straightforward with Boosthive. The process typically takes less than 15 minutes and demands minimal effort.
CoD Victus XMR Boosting Service
Make your CoD journey easier and more enjoyable with our Victus XMR unlock boost. We will take care of repetitive grinding for you. Our skilled boosters ensure quick and effortless order completion.
For questions regarding our Victus XMR carry service, please contact our customer support team. They are always available and ready to assist through online chat, Skype or Discord, 24/7.