Unlock All Bundle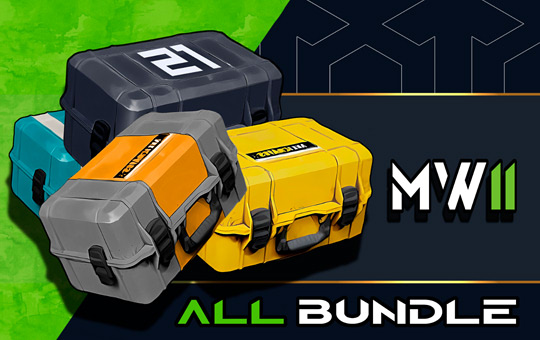 Unlock all weapons, attachments, and challenges in CoD MW2 with a single bundle. We offer this "unlock all" ultimate bundle to save you hours upon hours of time. No need to grind for days on end when you can buy this convenient bundle and start with a huge weapon arsenal immediately.
A high Military Rank level also ensures that you can start with all the leveling challenges unlocked from the get-go. Dive straight into the blood-pumping action of Modern Warfare 2 without the tedium of grinding.
Start time: 30-40 minutes / Boost takes: ~5 days.
The CoD Ultimate bundle includes:
Military rank of 55.
All weapons are unlocked.
All attachments are unlocked (as an additional option).
Manual service completion.
We also offer a live stream of this service, however, please make sure to request it prior to the start of the boost, so we have sufficient time to prepare for it. You can buy the CoD ultimate bundle on PC, Xbox, and PlayStation platforms. However, before proceeding to the purchase, please make sure to take a quick look at the basic requirements for this service.
Requirements:
Modern Warfare 2 purchased;
this service is piloted.
Important: Unlocking via this bundle is performed via matches in regular CoD MW2, which means that you have to purchase the game to be able to proceed with this service.
How does it work?
If you want to buy an "Unlock all" CoD bundle but aren't sure about the process, we have prepared a detailed step-by-step breakdown of the entire procedure for your convenience. Simply follow these easy steps and enjoy having all weapons and attachments unlocked on your CoD account.
Select your desired additional options.
Proceed to the checkout to finalize the payment.
Wait 3 to 7 minutes for our customer service team to get in touch with you.
We will specify all the required information and start the CoD ultimate bundle service.
That's it! Enjoy having all weapons, challenges, and attachments unlocked without any stress and without wasting any time. If you have any questions regarding our CoD ultimate bundle - don't hesitate to reach out! Our customer service team consists of real people and is available 24/7. You can reach out to us via Discord and live chat at any time. Enhance your CoD gameplay with Boosthive today!