CoD MW2 Spec Ops Boost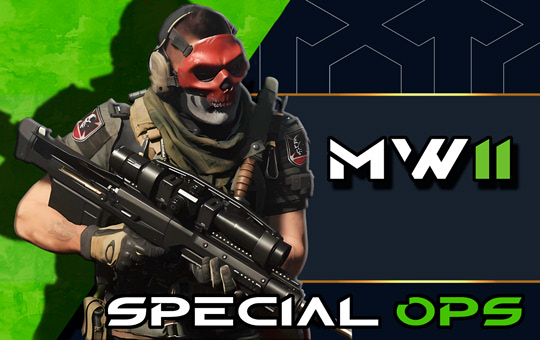 Modern Warfare 2 Special Ops boost is a service to complete Spec Ops missions from 1 to 7 and get exlusive cosmetics and blueprints. These missions are a hard PvE challenge in MW2 and players need to complete them every week to farm stars. Buy MW2 Spec Ops and our team will deal with them with ease.
We guarantee 3-star completion of every mission during MW Special Ops carry. Service is available on all platforms including PC, Xbox & PS4/5. You can purchase all Spec Ops at once with 15% discount or get the desired missions only.
Start time: 30-40 minutes / Boost takes: 10-15 mins per mission.
CoD MW2 Spec Ops boost includes:
Spec Ops missions completed with 3 stars.
Stars to upgrade kits.
Some experience for your CoD account.
Manual service completion.
Personal livestream (please request before we start).
Before getting MW2 Special Ops boosting, make sure you purchased Modern Warfare II and look at the basic requirements.
Requirements:
Modern Warfare 2 account;
this service is piloted only.
CoD Special Ops mission rewards
Players receive 1-3 stars depending on their success during each operation. Missions can be replayed every week to farm additional Stars. Gather 100 to unlock the ultimate reward - The Rebel skin. Here is a full list of missions and tasks to complete.
| | |
| --- | --- |
| Operation | 3-star task |
| Defender Hafid Port | Complete with 5 or less bombs planted |
| Low Profile | Complete under 15 minutes |
| Defender: Mt. Zaya | Complete with 3 or less bombs planted |
| High Ground | Complete under 15 minutes |
| Denied Area | Compelete under 16 minutes |
| One on the Chamber: Low Profile | Complete under 15 minutes |
| Gun Game: Mt. Zaya | Complete with 3 or less bombs planted |
Players get more stars for faster operation execution or for completing the special requirement. Success can be challenging, and if the entire squad is defeated, the mission must be restarted.
MW2 Spec ops Stars rewards:
Gathering various number of stars unlocks new cosmetics for your profile. We provide the full list for you to check:
20 stars - Ribbit Charm;
30 stars - Calling Card "The Button";
50 stars - Calling Card "All Mighty";
75 stars - Treasure "Loading Screen";
100 stars - Kastov 762 Blueprint "The Rebel".
How it works?
Spec ops missions can be completed with different kits. Your buffs will vary depending on your role: Assault, Medic or Recon. Feel free to pick any one and we will complete Operations with chosen role. Here is how it works:
Proceed to checkout and finish your payment.
Our team will contact you within 3-7 minutes to set everything up.
We will start Caution Tape boost at the appointed time.
Our team will complete the purchased missions on your account.
3-stars are guaranteed during the service.
Enjoy new rewards you can now unlock with the acquired stars.
In case you have any questions before buying Special Ops in Modern Warfare 2, feel free to contact our chat agents in Online-chat, or Discord. We work 24/7 and always ready to help with any questions or provide a custom offer on request.