CoD MW2 Ranked Play Boost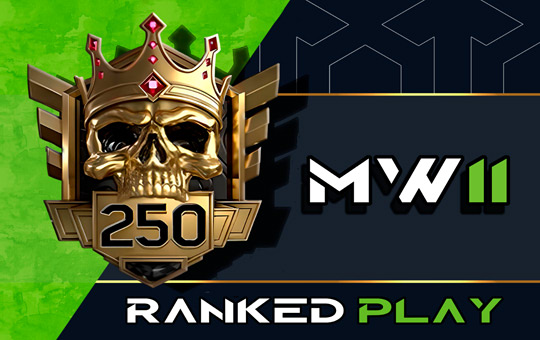 0
2143
4286
6429
8572
10715
12858
Estimated time for boost
: 
12 hours
0
2143
4286
6429
8572
10715
12858
Estimated time for boost
: 
12 hours
CoD Modern Warfare 2 ranked play boosting is a fast service that helps players to upgrade into better division while increasing their skill rating. Service is available on all platforms and with selfplay option. We offer MW2 ranked play carry for sale that is performed by pro CoD players.
Reach desired Modern Warfare 2 Skill division with ease instead of staying on a certain rating. Our MW2 rank play boosting is a secured and fast solution for those who simply wants to get the desired rewards during the season without stress.
Start time: 30-40 minutes / Boost takes: depends on current & desired rank.
Modern Warfare rank boost includes:
Chosen Modern Warfare 2 Skill rating.
Some Military & Prestige ranks experience.
Ranked Play skill division rewards depending on your placement.
Ranked Play rewards (depends on number of wins).
Good overall stats, K/D/A & MMR to play with better teammates.
Available on PC, Xbox & PS4/5
To start the boost, simply choose your current and desired Modern Warfare 2 SR with our flexible calculator. Also pick an average SR per match using the options below the calculator. Feel free to contact our game experts in the online-chat, or discord. We work 24/7 and will be happy to help you.
Requirements:
CoD Modern Warfare 2 account;
following our guidelines if you choose selfplay option.
MW2 Ranked Play Boost Info
Ranked Seasons in Modern Warfare have been established for a considerable period, leading players to anticipate rewards for high divisions on the competitive ladder. Achieving the top ranks like Iridescent or Top 250 often necessitates a skilled fireteam. This is where affordable Call of Duty Modern Warfare II ranked play boosting services come into play.
Opting for MW2 ranks boosting offers the benefits of getting SR (Skill Points) as required and choosing the desired division for advancement. Our proficient team is capable of elevating your position to the ladder's summit, unlocking rewarding end-of-season outcomes.
Here is a compilation of Modern Warfare 2 Division rewards that become attainable following the acquisition of our expert MW2 ranked boost service.
Modern Warfare 2 Skill Division rewards
As players achieve specific Skill divisions and milestones within CoD MW2 ranked play, they become eligable for particular end-of-season rewards. We've compiled a comprehensive list detailing all the rewards accessible through our Modern Warfare 2 rank play carry services.
| | |
| --- | --- |
| Skill Division | Rewards |
| Bronze | Bronze Emblem |
| Silver | Silver Emblem |
| Gold | Four Operator Skins, Gold Animated Emblem, Gold Weapon Camo |
| Platinum | Four Operator Skins, Platinum Animated Emblem, Platinum Weapon Camo |
| Diamond | Four Operator Skins, Diamond Animated Emblem, Diamond Weapon Camo |
| Crimson | Four Operator Skins, Crimson Animated Emblem, Crimson Weapon Camo |
| Iridescent | Four Operator Skins, Iridescent Animated Emblem, Iridescent Weapon Camo, Iridescent Calling Card |
| Top 250 | Four Operator Skins, Top 250 Animated Emblem, Top 250 Weapon Camo, Top 250 Calling Card |
As each Ranked Play Season draws to a close, the rewards you secure, along with your starting point for the upcoming Season, are contingent upon your most elevated Skill Division placement during the Season. You also receive all rewards from the previous skill divisions.
MW 2 Rank Play Boost FAQ
Players may have inquiries regarding the duration of the boost process. This timeline is primarily influenced by the starting and desired ranks, with higher ranks typically requiring more time to attain.
Here are all ranked play divisions and rough estimate completion time:
| | | |
| --- | --- | --- |
| Division | SR | ETA |
| Bronze | 0-899 | 12 hrs |
| Silver | 900-2'099 | 2 days |
| Gold | 2'100-3'599 | 2 days |
| Platinum | 3'600-5'399 | 2 days |
| Diamond | 5'400-7'499 | 2 days |
| Crimson | 7'500-9'999 | 3 days |
| Iridescent | 10'000 min | ~3 days |
| Top 250 | 10'000+ | ~20 days |
We always refrain from employing any exploits or cheats to expedite ranked play carry in Modern Warfare 2. Additionally, you have the option to request a streaming service, ensuring transparency throughout the process and guaranteeing the safety of your account.
Should you have any further inquiries not covered in this concise guide to CoD MW2 rank play boosting, please don't hesitate to reach out to our team via online chat, or Discord. We are more than willing to elucidate the process and address all your queries before making a purchase.