ISO 45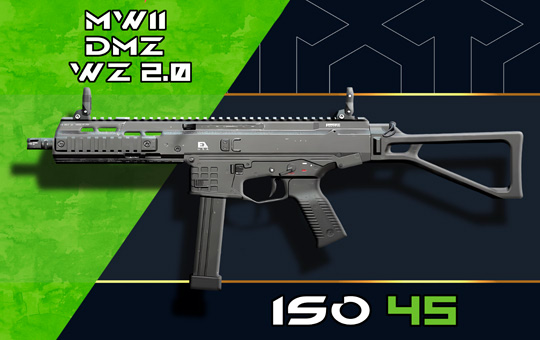 Get your hands on the ISO 45 with our ISO 45 unlock service. It is the fastest way to get access to this powerful SMG in Modern Warfare II, Warzone 2, and DMZ. The ISO 45 excels at short to mid range combat and is a delight to use for anyone who enjoys SMGs. Our ISO 45 boosting eliminates the lengthy unlocking process, providing a guaranteed SMG for your Operator in CoD Warzone 2, Modern Warfare II, and DMZ.
The ISO 45 access unlock is a selfplay service designed to efficiently obtain this SMG in minimal time. Elevate your gameplay by acquiring the best weapons; simply purchase ISO 45 Unlock from our store.
Start time: 30-40 minutes / Boost takes: 15-20 minutes.
CoD ISO 45 unlock includes:
ISO 45 SMG unlocked.
Chance to acquire keys in DMZ.
Gain Military & Prestige rank experience.
Additional options:
Unlock all attachments: We'll level up the ISO 45 Unlock to unlock all mods for this current weapon.
Unlock camo: Choose the skins you want for the ISO 45 Unlock SMG
Stream: We'll live stream the entire process, showcasing each step of the service.
Note: ISO 45 Unlock is unlocked in the DMZ. This service is available with a selfplay option. Additional options are performed in piloted mode and may extend the boost's duration. Before purchasing ISO 45 Unlock, please review the basic requirements for this type of service.
Requirements:
DMZ access
following simple instructions from our team
How to unlock ISO 45?
There are a few methods to access ISO 45 Unlock in Call of Duty. Once acquired, this SMG instantly becomes available in all game modes: Modern Warfare II, Warzone 2.0 & DMZ. Here are ISO 45 Unlock unlocking methods:
Complete the challenge in MW II.
Acquire the weapon from another player in the DMZ.
Our team uses the second method, as it is much faster and can be done with the self-play option.
How does it work?
Place an order and proceed to checkout.
Our customer service team will contact you within 3 to 7 minutes.
We will set everything up for the boost.
Our team and you will log into DMZ simultaneously.
Our teammate will drop the ISO 45 Unlock, and you will collect it. Enjoy your new addition to the SMG collection!
Unlocking ISO 45 Unlock is incredibly simple with Boosthive. The process usually takes less than 15 minutes and requires minimal effort on your part