MW2 Galvanic Camo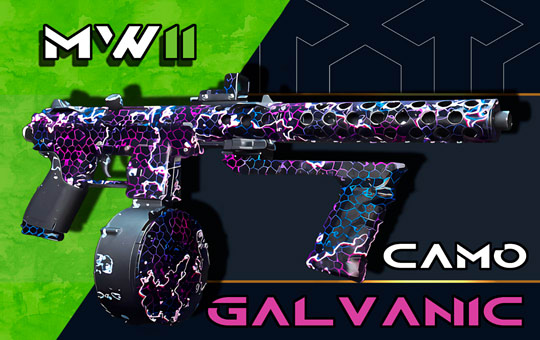 Galvanic camo boost is a quick service that helps with obtaining this new camouflage from Episode 3 of MW2 in Atomgrad Raid on Veteran Difficulty. Our team will finish Atomgrad on Veteran difficulty which will unlock the Galvanic camo for all of your weapons in both MW2 & WZ2.
Just having Galvanic Camo is a testament to one's skill in the game. We offer the Galvanic camo for sale, which is a great deal for both Modern Warfare 2 and Warzone 2 players. Forget about wasting hours of your life trying to finish this hardcore raid on a Veteran difficulty. We offer a CoD: Galvanic camo boost in MW 2. Buying the Galvanic camo within MW unlocks it in both games.
Start time: 30-40 minutes / Boost takes: 2-3 hours.
MW2 Galvanic camo boosting rewards:
The Galvanic camo unlocked for all weapons.
Atomgrad Raid: Episode 3 finished on Veteran difficulty.
Some Military & Account EXP.
Chance to get several other Atomgrad Raid rewards.
Additional options:
Veteran difficulty unlock: In case you don't have Veteran difficulty available, our team can do it for you with this additional option;
Murk Camo: With this option, you can add the Murk Camo to your collection as our team will also complete the easter egg required to unlock it.
Stream: Select this if you wish to view the live stream of the entire procedure firsthand.
Before you buy Galvanic Camo Boost, please make sure to take a quick look at the basic requirements for this service.
Requirements:
Modern Warfare 2 purchased.
We offer Galvanic Camo for sale on all platforms, which include PC, Xbox, and PlayStation.
How to get Galvanic camo in MW2?
The fastest way to unlock this camo would be to purchase our Galvanic camo boosting service and let our team take care of the rest. However, the shortest answer to this question would be completing Atomgrad Raid episode 3 on the Veteran difficulty, which is extremely challenging and time-consuming for many players, especially those who started out recently.
Doing so successfully unlocks the coveted Galvanic camo. While it sounds easy, In reality, this might be a painful task to perform.
Buying Galvanic camo in MW2
The process of purchasing a Galvanic camo service is designed to be easy and user-friendly. Here's an easy step-by-step breakdown of the entire procedure that ensures a swift and seamless boosting experience:
Make sure you have Modern Warfare II purchased.
Select the selfplay option if you want to participate in the boost.
Proceed to the checkout and finalize your purchase.
We'll get in touch within 5-7 minutes to make arrangements and start the boost.
…that's it! Once the order is fulfilled you will be able to play with cool Galvanic camouflages in both WZ or MW.
Our 24/7 customer support is at your service. If you want to ask something before ordering the Galvanic camo boost, don't hesitate to contact us via online chat, or Discord. We're here to assist at any time. Make your CoD gameplay more enjoyable with Boosthive today!