Cronen Squall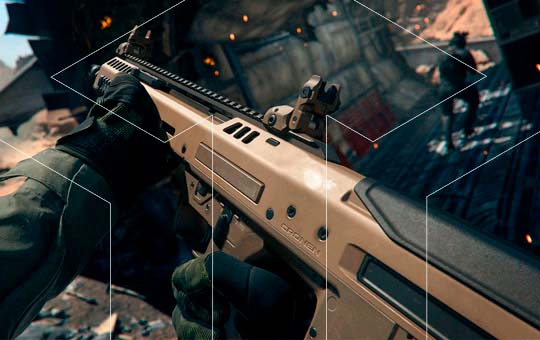 Cronen Squall is a new exclusive battle rifle in the Season 3 of Warzone 2 and Modern Warfare 2. It will become available in one of the Battle Pass sectors once Season 3 will go live on April 12 in any of the game mods. Cronen Squall unlock carry provides a guaranteed gun for your Operator in both CoD Warzone 2 and Modern Warfare 2 games.
Our Cronen Squall unlock boost is self-played and includes a fully instructed service leading to this battle rifle obtaining which is a great tool to possess. Buying Cronen Squall is prior to any operator who values their time and wants to play the game with the best weapons at hand.
Start time: 30-40 minutes / Boost takes: 15-20 minutes.
CoD Cronen Squall boosting rewards:
Cronen Squall Battle Rifle unlocked.
Some Military & Prestige rank experience.
Additional Tempus Torrent boosting options:
Unlock all attachments - we will level up Cronen Squall to unlock all mods in this current weapon.
Unlock camo - we will unlock selected skins for the Cronen Squall battle rifle.
Stream - the whole process will be live-streamed to you showing all the steps of your boost.
Note: We unlock Cronen Squall in DMZ. Service is available with selfplay option. Additional options are done in piloted mode and may extend the duration of the boost. Before buying Cronen Squall, please have a look at the basic requirements for this type of service.
Requirements:
DMZ access;
following simple instructions from our team.
How To Unlock Cronen Squall
There are a few ways to unlock the Cronen Squall in CoD. They are not specifically complicated but still require some skill and understanding.
Here is the list of the ways to get the weapon:
Get 15 Battle Pass Tokens;
steal the weapon from other players in DMZ;
Our team uses the second method as it is much faster and it is possible to do with self-play option.
How it works?
Place an order and proceed to checkout.
Our managers will contact you within 3-7 minutes.
We will set everything up ready for the boost.
Our team and you log into DMZ mode at the same time.
Our teammate simply drops Cronen Squall and you loot it.
That's it! Enjoy new battle rifle in your collection.
This is one of the free unlocks in the Battle Pass, so you don't even need to pay for the premium pass to unlock this weapon, you just need the 15 tokens. If you have any questions about the Cronen Squall BR boost, or want to add something to your order - don't hesitate to reach out!
CoD Cronen Squall Boosting Service
That's why we offer Cronen Squall rifle for sale for all the players who get tired of doing endless grind every day. Our professional operator boosters know the best and most optimal sources and methods to complete your order fast and easily while you enjoy your free time.
In case you still have any questions before getting our Cronen Squall carries service, you can always contact our managers via online chat, skype, or discord. We are online 24/7 and ready to help.