Caution Tape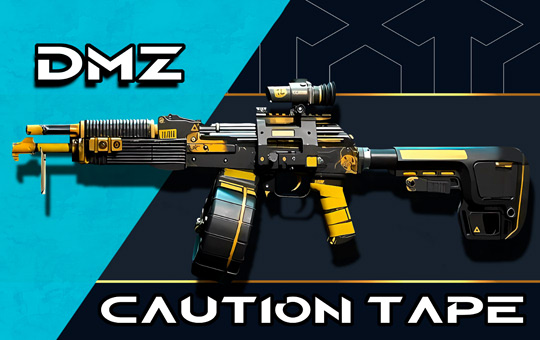 Caution Tape unlock is a booting service that allows to get one of the best RPK blueprints. This cosmetic was added in Modern Warfare 2 and is used for one of the most popular weapons in the game. Getting this blueprint is a challenging task to do in DMZ. Buy Caution Tape blueprint from us and our team will exctract Weapon Case on Al Mazrah map and obtain it in the shortest time possible.
This boost is available in DMZ, with choices between piloted or selfplay mode. Once unlocked Caution Tape blueprint becomes accessible in all game modes as well. Enhance the appearance of your RPK with our Caution Tape boost.
Start time: 30-40 minutes / Boost takes: ~2 hours.
DMZ Caution Tape blueprint unlock includes:
Access to Caution Tape blueprint.
x1 Weapon Case extracted from Al Mazrah.
Some EXP for military & prestige ranks.
Caution Tape boosting is available on all platforms: PC, Xbox & PS4/5.
Requirements:
How we unlock Caution Tape in MW2?
This blueprint is only accessible through DMZ - once you unlock it there, it will be permanently added to your collection. And our professional team is here to help you get it without stress. Here is a short step-by-step guide on how Caution Tape carry works:
Proceed to checkout and finish your payment.
Our team will contact you within 3-7 minutes to set everything up.
We will start Caution Tape boost at the appointed time.
For selfplay - our team will extract 1 Weapon Case on Al Mazrah while being in a squad.
This will unlock a new Blueprint for you as well.
Enjoy the new Caution Tape blueprint unlocked in MW2, WZ2 & DMZ modes.
Should you have any questions prior to purchasing the Caution Tape blueprint in DMZ, don't hesitate to contact our managers via online chat or Discord. Our 24/7 team is here to assist and help you customize your order.