Carrack .300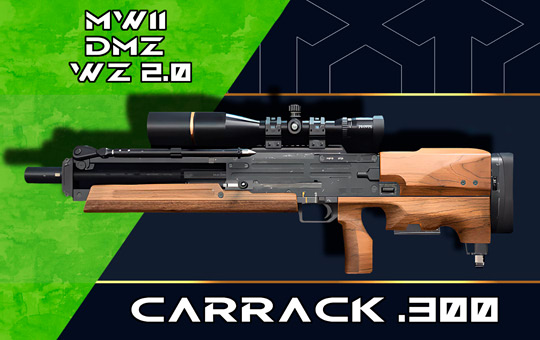 Carrack .300 unlock service is a quick boost that allows players to gain access to this semi-automatic sniper rifle in Modern Warfare II, Warzone 2, and DMZ. This weapon is exceptionally good at long range and it takes some time to unlock without any help. Carrack .300 boosting provides a guaranteed semi-automatic sniper rifle for your Operator in CoD Warzone 2, Modern Warfare II, and DMZ.
Carrack .300 access unlock is a selfplay service that includes a fully instructed carry leading to obtaining this rifle in the shortest time possible. Improve your gameplay by using the best weapons by simply buying Carrack .300 from our store.
Start time: 30-40 minutes / Boost takes: 15-20 minutes.
CoD Carrack .300 unlocking includes:
Carrack .300 semi-automatic sniper unlocked.
Some Military & Prestige rank experience.
Additional options:
Unlock all attachments - we will level up Carrack .300 to unlock all mods for this current weapon.
Unlock camo - we will unlock skins of your choice for Carrack .300 sniper.
Stream - the whole process will be live streamed to you, showing all the steps of the service.
Note: We will unlock Carrack .300 in the DMZ. Service is available with a selfplay option. Additional options are done in piloted mode and may extend the duration of the boost. Before buying Carrack .300, please have a look at the basic requirements for this type of service.
Requirements:
DMZ access;
following simple instructions from our team.
How to unlock Carrack .300?
There are a few ways to get access to Carrack .300 in Call of Duty. Once obtained, this semi-automatic sniper rifle will instantly become available in all gaming modes: Modern Warfare II, Warzone 2.0 & DMZ, Here are Carrack .300 unlocking methods:
complete the challenge in MW II;
steal the weapon from another player in the DMZ.
Our team uses the second method as it is much faster and it is possible to do with the self-play option.
How does it work?
Place an order and proceed to checkout.
Our customer service team will contact you within 3 to 7 minutes.
We will set everything up for the boost.
Our team and you will log into DMZ at the same time.
Our teammate will drop Carrack .300 and you will loot it.
That's it! Enjoy the new sniper rifle in your collection.
Unlocking Carrack .300 is really simple with Boosthive. The whole process usually takes less than 15 minutes and requires close to zero effort from your side.
CoD Carrack .300 boosting service
This is why we provide the Carrack .300 for purchase, catering to players who are weary of the mindless daily grind. Our team of skilled boosters is well-versed in the most efficient sources and techniques, ensuring swift and effortless completion of your order.
Should you have any inquiries prior to availing of our Carrack .300 carry service, our customer service team is always here to help through online chat or Discord, accessible 24/7.