Biohazard König Skin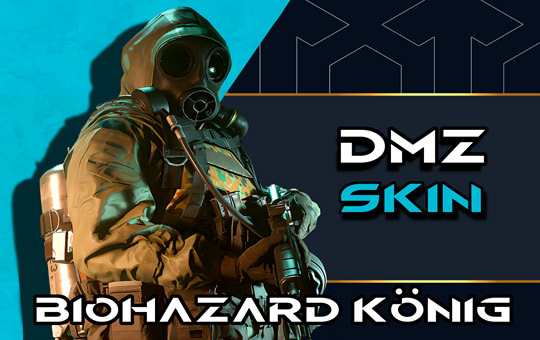 Biohazard König Skin unlock is a boosting service that helps to extract 7 Weapon Cases on Al Mazrah thus getting one of the best-looking operator skins in CoD. This carry is available with piloted and selfplay options in DMZ. Once you've unlocked Biohazard König, it becomes available in other gaming modes: MW2 & WZ 2.0.
Besides a cool-looking operator appearance, Biohazard König Skin boosting service also includes all other rewards for exctraction of every Weapon Case. That includes a Blueprint, a Calling Card and many others great collectibles. Buy Biohazard Skin from us to get them all at once!
Biohazard König Skin unlocking also includes:
1-7 Al Mazrah weapon cases extracted.
Operator Skin - Biohazard König.
RPK Blueprint - Caution Tape.
Weapon Sticker - Biohazard.
Vehicle Skin - Jungle Incognito.
Charm - Gas Gas Gas.
Calling Card - Weapon Crate.
Emblem - Weapon Crate.
If you've already extracted few Weapon Cases from Al Mazrah, feel free to contact us and we will recalculate the price depending on your progress. Service is available for all PC, Xbox & PS4/5 players who meet the following requirements:
Requirements:
DMZ account;
following team's insctructions (for selfplay option).
How we unlock Biohazard König?
Looking to obtain one of the most visually appealing Operator Skins in CoD? Acquiring this cosmetic is a challenging task to do but not for our firesquad. We provide this service on all platforms and even with selfplay mode. Here is a quick note how it works:
Proceed to checkout and finish your payment.
Our team will contact you within 3-7 minutes to set everything up.
We will start Biohazard König skin boost at the appointed time.
For selfplay - our player will help to extract Weapon Cases while you're in a single squad.
Be patient - it's still a challenging task (player with case shows on the map). So it might take few hours of playtime.
Enjoy the new Biohazard Operator Skin on your account!
Should you have any questions prior to purchasing the Biohazard König Skin in DMZ, don't hesitate to get in touch with our gaming specialists via online chat or Discord. Our team is at your service around the clock to respond to any inquiries you might have or to tailor a customized package according to your needs.