New World Azoth Farm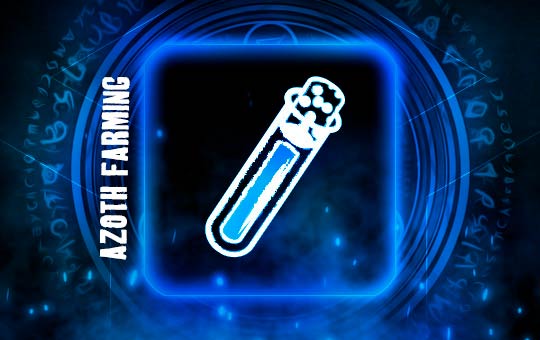 New World Azoth boost is the fastest way to get as much Azoth as you want in the shortest time possible. Azoth is the main magical reagent used in the New World new MMORPG. It can be farmed from various activities and spent for gear crafting to improve the quality of created items.It is also used for fast travel and Weapon mastery trees.
Buying New World Azoth farming service will allow you to forget about the daily grind of corrupted breaches and quests and get the exact amount of Azoth you need for your character.
New World Azoth carry includes:
The selected amount of Azoth farmed on your character.
A lot of Corrupted Breaches completed.
This currency is used for:

increasing the power of the crafted items;
fast travel;
required for weapon mastery skill points;
changing characteristics of your faction armor.

Other items and resources that may drop during the boost.
Some reputation with your main Faction.
Boost takes: 500x Azoth/2-3 hours.
You can select any number of Azoth farmed on your character by moving the slider to the right side. The duration of this service will depend on the amount of Azoth you choose.
Please make sure that you meet the minimum requirements before purchasing this service. In case you still have any questions, feel free to contact our friendly chat agents, and they will be happy to help you.
Requirements:
New World account;
25+ level;
Azoth Staff in bags;
E-mail Steam Guard active.
How to farm Azoth in New World fast?
To fast grind Azoth in New World you will have to get used to completing tedious quests and activities across Aeternum. However, not all of them are designed for new players and others ways of farming are not worth the time.
Here is the list of all sources to get Azoth in the New World:
War & Corrupted Invasion completion (not for new players).
Story quests and some town quests.
Corrupted Breaches farm (the most efficient way of Azoth farming).
Killing monsters (the slowest way).
Farming resources (slow and you need to get the instrument with the correct bonus).
Buying from the Auction (fast, but it costs some coins!).
Corrupted Breaches completion is considered the fastest way of grinding Azoth. You don't need to get to the high level to start this farm. There are always some portals available on the map and you get a lot of Azoth for closing one Portal.
Why buying Azoth in New World is the best option?
Boosthive offers you to buy the Azoth farming assistance and forget about doing all boring activities over and over again. Our professional boosters can help you get as much Azoth as you want in the shortest time, so you can use this magical reagent during your adventures in Aeternum.