Inferno Raids - Demon Hunter Title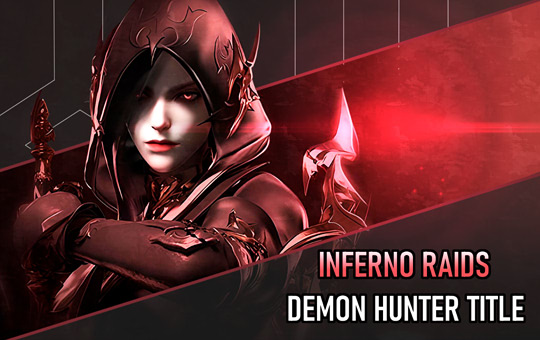 Lost Ark Inferno raid boost is a fast way to beat all 3 Inferno raids in Lost Ark, earning the "Demon Hunter" title in the process. Lost Ark Inferno carry is essential for any player who wants to earn the prestigious title of Demon Hunter without any stress. No need to spend hours on doing that yourself when we can handle it for you!
Inferno raids pose a huge challenge, especially for players who don't want to spend a ton of time learning the fights. However, the Demon Hunter title is a great reward that is appealing to many fans of Lost Ark. Simply buy the Lost Ark Demon Hunter title boost here at Boosthive and enjoy getting it as quickly as possible.
Start time: 2-3 hours / Boost takes: 4-7 days.
Lost Ark Inferno raid boosting includes:
All 3 Inferno Raids cleared.
"Demon Hunter" title unlocked.
Legendary Card pack.
Manual service completion.
We support all regions. However, before you buy Lost Ark Inferno raids carry, please make sure to take a quick look at the basic requirements for this service.
Requirements:
1475 ilvl gear;
this service is piloted.
We can also provide a free live stream of the entire process for you to watch. However, if you want a live stream, please make sure to request it before the service starts so we have enough time to set everything up properly.
Inferno Raids boosting in Lost Ark
In order to unlock the Demon Hunter title in Lost Ark players have to complete a difficult challenge of clearing all 3 Inferno Raids. This requires a ton of preparation and learning the mechanics of each individual raid. However, it doesn't have to be this way. Here is a full list of raids that Inferno Raids Carry provides.
Raids to get Demon Hunter title:
Valtan.
Vykas.
Kakul-Saydon.
Our Inferno Raids boosts will help you to save time by clearing all 3 of them for you in the shortest time possible. Unlock the Demon Hunter title in Lost Ark with our Inferno Raids boosting without any stress whatsoever. Our professional players know all the required strategies and are ready to provide their assistance.
If you have more questions regarding the Demon Hunter title for sale or want to add something extra to this service - don't hesitate to reach out to us directly. Our customer service team is available 24/7 and is always ready to assist. You can contact us via Discord, Skype, and live chat here on the website. Make your Lost Ark journey more enjoyable together with Boosthive!