Legion Raid Akkan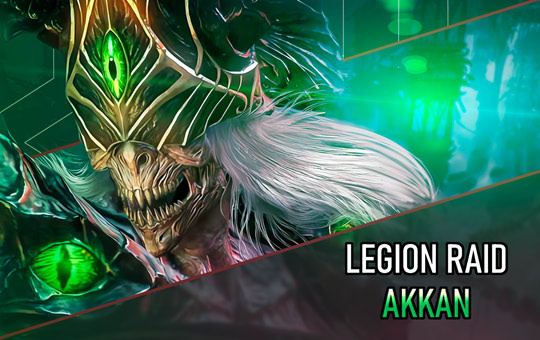 Legion raid Akkan carry is a fast single run to complete all 3 gates in the new Legion Raid of Lost Ark. We offer Lost Ark Akkan raid boost on both normal and hard modes. You will receive the same items from both difficulties, however, there are differences in their ilvl depending on the difficulty you select.
By getting an Akkan raid boost you receive a fast and convenient service that will allow you to forget about the wipes. Simply select your desired number of gates and leave everything else to us with the Legion Raid Akkan boosting.
Start time: 30-40 minutes / Boost takes: 2-3 hours.
Lost Ark Akkan raid carry rewards:
Legion raid Akkan completed.
Resources for upgrading your set.
Some gold and other loot dropped during the service.
Manual service completion.
Free selfplay.
VPN for security (for piloted).
Before buying Akkan Raid Boosting, please make sure to take a quick look at the basic requirements for this service.
Requirements:
Normal mode: 1580 ilvl;
Hard mode: 1600 ilvl.
Akkan raid boosting
Legion raid Akkan is the newest raid in Lost Ark and presents a great amount of challenge for many players. There are 3 gates, two modes available - Normal and Hard. While you receive the same loot from both difficulties, it will vary in ilvl and its power as a result.
If you want to learn more about the rewards for each gate, we have compiled this handy table where you can check this information.
Normal mode Akkan rewards

Hard mode Akkan rewards

Gate 1: 75 tickets, 3 bases, 3 chests, 1500 gold, 900 gold for the chest.
Gate 2: 75 tickets, 3, bases, 3 chests, 1750 gold, 1100 gold for the chest.
Gate 3: 100 tickets, 5 bases, 5 chests, 5 auctions, 2250 gold, 1500 gold for the chest.

Gate 1: 75 tickets, 7 bases, 7 chests, 1750 gold, 1200 gold for chest
Gate 2: 75 tickets, 7 bases, 7 chests, 2000 gold, 1400 gold for chest
Gate 3: 100 tickets, 8 bases, 8 chests, 10 auctions, 2750 gold, 1900 gold for chest
There is also a new honing material that can be received from all content of 1580 ilvl and above. It will allow you to upgrade the Akkan set. Akkan raid also introduces a new gear set - Upper Ancient Gear.
Why choose Boosthive for Akkan carry?
We always guarantee the highest quality of services here at Boosthive, and Akkan raid boosting is no exception. Our professional players have played Lost Ark since its release, and are ready to provide Akkan carry of the highest quality. Here is a short list of some of the benefits that we provide.
Benefits from buying Akkan raid boost:
professional Lost Ark boosters;
over a thousand positive customer reviews;
100% guarantee on order completion;
fully manual service completion.
24/7 customer support by real people.
If you have any other questions about buying a legion raid Akkan carry, or want to add something extra to your order, simply contact us. With our customer service team being available 24/7 you can always get assistance. We will answer any questions that you might have about this or other services. You can reach out to us via Discord, live chat here on the website, or even Skype. Enhance your Lost Ark gaming experience together with Boosthive!