The Undying Achievement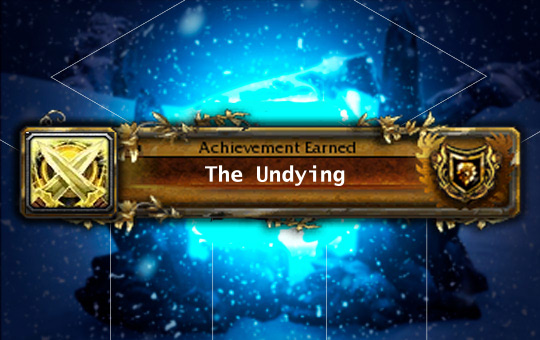 The Undying achievement boost will help to get this prestigious title and achievement. It is rewarded for finishing Naxxramas 10-player without a single player dying: neither during boss fights nor trash packs. For those who don't have a well-coordinated guild, buying the Undying title and achievement might be the only solution.
Imagine Naxx with 15 bosses and deadly trash packs with some one-shot mechanics. While not being the most challenging instance of all times, this raid still takes a lot of time to complete. A single death and you're done for this week. What makes it even more stressful is that the Undying will be removed during WotLK. We offer stress-free solution - simply get our the Undying achievement carry.
WotLK the Undying boost includes:
Feat of Strength The Undying.
Title the Undying.
Full Naxxramas 10-man run.
Few Emblems of Valor.
Loot guarantee is not included.
Boost takes: 1-4 weeks.
We will start offering the Unding achievement for sale in a few weeks after the official raid release. Our guilds will need to get geared first to guarantee 100% smooth boosting experience and Undying completion without multiple unsuccessful attempts.
This service will be available on a limited number of popular realms. It is recommended to contact our customer support with your server before buying the Undying title & achievement. Also please have a look at the basic requirements for this type of service.
Requirements:
WotLK classic account;
80 level;
200+ ilvl gear;
this service is piloted only.
WoW The Undying Boosting Info
The Undying Feat of Strenth is considered as one of the most stressful and frustrating tasks of all time. No wonder why such type of content got removed after Wrath of the Lich King. Imagine being fully concentrated for 3 hours only to see your raid member to die from Sapphiron's frost breath. It is super annoying and causes a lot of frustration.
It should not be this way because WoW should be fun. That's why we offer the Undying boosting services on several realms. Boosthive works with several highly experienced guilds on multiple WotLK classic realms. These raiding teams know all bosses by heart and they are stress-resistant, making sure that nothing can make them loose their temper.
However, you must understand that even top players can make mistakes or can simply get disconnected during the fights. So several tries might be required in order to get the Undying achievement and title for you. But no matter what, the team will reclear Naxxramas in case of failure.
We offer the Undying achievement carry in a piloted format only to relieve our customers from pressure and eliminate the random factor. In case you have any questions regarding our services, do not hesitate to contact our customer support via online-chat, Skype, or Discord. We work 24/7 and the team will be happy to provide more information.