For the Horde Achievement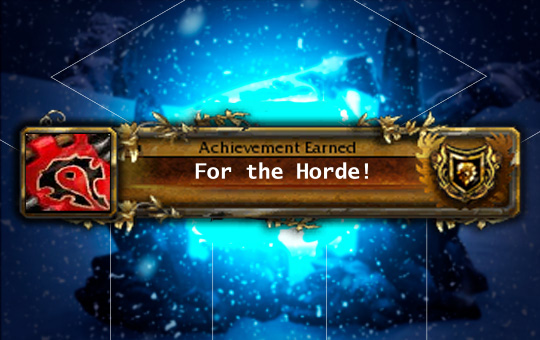 For the Horde boost is made to help players with getting this rare achievement and a mount that comes with it. This meta-achievement is granted to players that manage to take down all of the Alliance leaders. It is pretty much impossible to achieve solo and requires a highly coordinated group.
All of the leaders are located in Alliance's major cities, meaning that the main challenge of the achievement comes from other players, rather than the bosses themselves. But it doesn't mean that they are pushovers either. Buying For the Horde achievement will help with overcoming this massive challenge and getting prestigious rewards without any stress.
WotLK For the Horde achievement boost includes:
Meta-achievement "For the Horde".
Achievement "Putting Out the Light".
Achievement "Death to the King".
Achievement "Storming Stormwind".
Achievement "Immortal No More"
Reins of the Black War Bear mount.
60 achievement points.
Boost takes: 1-7 days.
You can buy For the Horde achievement on most major Classic WotLK servers. However, availability of the boost heavily depends on the faction balance of your server. Please make sure to check the schedule and availability of the service on your realm before making the purchase. 
You can contact our customer support team via online chat. They are available 24/7, which means that you can reach them at any time. Apart from that, please take a look at the basic requirements for the boost.
Requirements:
level 80;
WotLK Classic account;
faction balance favorable towards Horde on your realm.
this service is piloted only.
WoW For the Horde Boosting Info
For the Horde meta-achievement is considered to be very difficult due to a variety of factors. For starters, faction imbalance on the server might make it harder to obtain, due to fewer people available for all the boss kills. Even with a decently sized group, it might prove to be extremely challenging, because killing Alliance leaders is the easiest part. It is way more difficult to manage when your team is getting constantly attacked by swarms of real players.
It can sound fun on the surface, but failing to get the achievement due to being outnumbered and overwhelmed is anything but fun. This is exactly where our For the Horde achievement boosting comes into play. Our professional teams will make sure to secure both the achievement and the mount for you in the shortest time possible. No need to worry about assembling a team and having to fight countless PvP fights anymore, because we will take care of it for you!
In case you have any questions about For the Horde achievement boost or want to add extra requirements to this service, don't hesitate to contact us! Our customer support team works 24/7 to ensure that you get a response at any time, even if it's the middle of the night. You can find us in online chat, Discord, or even on Skype. Get your Black War Bear mount quickly, and without stress with our For the Horde achievement boosting services.