PoE 5 Way Carry Services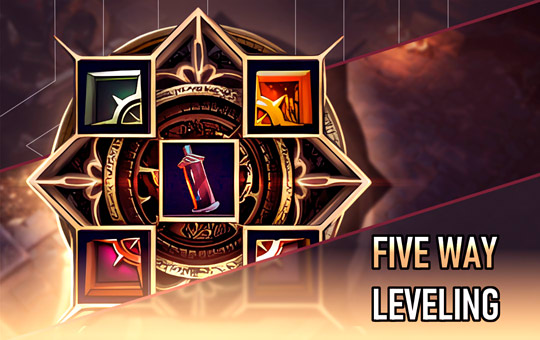 Estimated time for boost
: 
3 hours
Estimated time for boost
: 
3 hours
PoE Five way boost is the fastest power leveling service that will help with grinding levels 65 to 100 in Path of Exile in the shortest time possible. This service is performed in selfplay mode, which means that it is incredibly safe and you can enjoy it yourself! Forget about having to grind to get to the endgame, because our five way leveling boost can do it for you.
PoE 5-way carry is great for players who just want to dive into the best part of the game without having to farm XP for hours on end. Getting from 65 to 100 can take weeks of grind and might not be enjoyable to many players. Our Path of Exile 5 way level boosting is a great way to skip all the boring and monotonous grind to get straight into the endgame of this ARPG.
Start time: 20-30 minutes / Boost takes: ~20 hours for levels 65 to 100
Path of Exile five way boost includes:
Your desired PoE level.
Fast service completion.
Service completion is manual.
Before you buy PoE selfplay leveling boost, please make sure to take a quick look at the basic requirements for this service.
Requirements:
level 65+;
the main story is completed.
How does the PoE 5 way carry work?
Five way boost in Path of Exile works by getting a player into a group of well-geared players and clearing the Domain of Timeless conflict. This is a fast and easy way to gain a ton of XP as fast as possible. It's impossible to level faster than Five way carry in PoE, especially if you don't have a ton of well-geared friends who are willing to do that for you. Fortunately, our professional players can get you from 65 to 100 in no time at all with our Path of Exile five way leveling boosting services.
Optimal setup for 5 way boosting in PoE
You will need multiple 5 way carry runs to get from 65 to 100, but it is still far and above the fastest way to level your character in Path of Exile. However, you can still optimize your gear to receive more EXP per run. Here is a full list of items that will allow you to get as much XP in Five Way Path of Exile leveling boost as possible, as well as a rough breakdown of the xp you will get.
The optimal setup for 5 way PoE is:
The Supreme Truth.
Chitus' Apex.
Perandus Signet.
Dialla's Malefaction.
With this gear, you can expect roughly this estimated XP per 5-way PoE carry run:
91 - 85-90%
92 - 60-63%
93 - 43-45%
94 - 31-33%
95 - 18-20%
96 - 15-17%
97 - 9-10%
98 - 6-7%
99 - 3-4%
However, please keep in mind that these are rough estimates and might not reflect the exact amounts of experience you will get. As a general rule of thumb, you can expect to get from level 65 to 100 in roughly 20 hours of five way poe level boosting.
If you have more questions about 5 way carry in PoE or want to add something extra to the service - don't hesitate to contact us directly! Our customer service team is available 24/7 and can be contacted via Discord, Skype, and live chat here on the website. Make your PoE gameplay less tedious and more fun with Boosthive today.