Valorant Duo Queue Boosting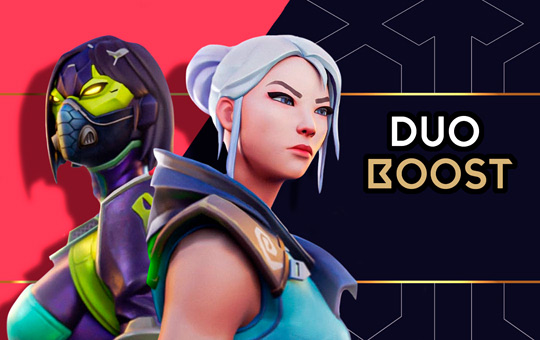 Valorant duo boosting is a service for entering a rating queue with a professional player. This is great for every player who has no team to play with or simply wants to experience a higher level of gameplay. Duo boost in Valorant is also a great option to increase your rank, since playing with a professional greatly increases your chances to win.
Another benefit of Valorant duo queue boosting provides the ability to learn various tips, tricks, and mechanics from your partner throughout the game. Watching experienced people play can have a great positive impact on your own gameplay! Order Valorant a DuoQ boost and experience it today!
Start time: flexible / Boost takes: 1 hour per game.
Valorant DuoQ boosting includes:
Your chosen number of games with a booster.
Winrate during the service is 60-80% (depends on current rank).
Professional Valorant booster in your team.
This service is available in all regions.
Please keep in mind that to play with a booster in a competitive ranked match your account level has to be at least 20 or higher. Take a quick look at the basic requirements before buying a Valorant DuoQ boost.
Requirements:
Valorant account;
this service is selfplay;
ranked games unlocked (account lvl 20).
Please keep in mind that while our boosters will perform to the top of their abilities, this service does not guarantee any particular win rate percentage.
We also offer additional options to push your Valorant DuoQ carry experience even further. You can order a specific agent that our booster will play as, or simply increase the number of players that will play with you. Simply select additional options that you find appealing and let us take care of everything else!
Advantages of boosting duo queue in Valorant
DuoQ boosting in Valorant is a great opportunity to learn more about this game. Knowledge is power, and it is especially true for such a competitive title as Valorant. Being able to play with a professional that has thousands of hours in this game is a good way to learn something new.
Here are some of the other advantages you get by purchasing our services.
Increased understanding of the game.
Higher chances to win by playing with professionals.
Learning your character.
…and a lot more!
If learning isn't something you are after, duo queue boosting in Valorant is also great for players that need a good teammate. Do you have a high skill level, but all teammates that the game gives you don't know what they are doing? This service is aimed to fix exactly that. Forget about losing games due to the incompetence of your team and dominate the competition, simply boost duo Valorant queues with our services.
If you have any questions about Valorant DuoQ service or want to add something extra to it - don't hesitate to reach out to us directly. You can do so via Discord, Skype, or live chat here on the website. Our customer service team is available 24/7 and is always ready to answer all of your questions. Make your Valorant experience more fun and engaging together with Boosthive!