Valorant Wins Boosting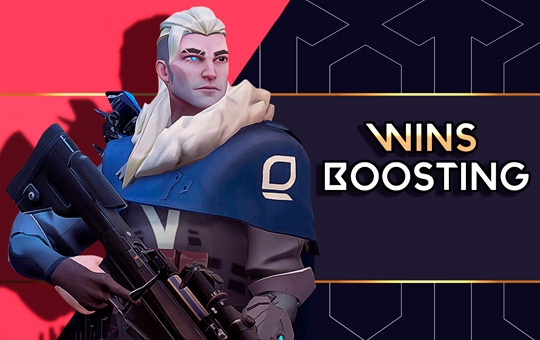 Valorant win boosting is a service that allows you to farm kills and increase your win rate at the same time. It is also great for people who wish to increase their K/D ratio in Valorant's multiplayer. Get an advantage over the enemies and make your profile shine with good stats by using our Valorant KD boost.
Forget about having to learn and grind the game for hundreds of hours on end, when we can increase your stats for you. Simply buy a Valorant win farming service, relax and enjoy as our professional players do just that for you.
Start time: 30-40 minutes / Boost takes: 1 hour per win.
Valorant win boost includes:
Your selected number of wins.
Winrate 80-89% depending on current rank.
Improved K/D ratio.
Some account XP.
Manual service completion.
Before you buy Valorant KD Boost, please make sure to take a look at the basic requirements for this service.
Requirements:
this service is piloted.
20 account rank;
available in all regions.
We offer win boosting in Valorant in all regions. Simply select your desired number of wins and let us handle the rest.
Advantages of win boosting in Valorant
Farming kills and wins in Valorant is great for players who want to increase stats on their account, but don't want to dump a huge chunk of their personal time into the game. With our Valorant win-boosting services you can forget about having to do that and just leave everything to us. Our professional players will farm Valorant wins for you, and all you have to do is enjoy your increased K/D ratio!
Valorant win rate boosting
You might be wondering how to boost the win rate in Valorant. The answer is long and complicated, so instead we have prepared this handy list of things that you should focus on if you decide to do so.
Train your aim.
Memorize all the maps.
Memorize agent synergies.
Practice for hours on end.
And even then there is no guarantee that you will come out on top since many players are doing exactly the same, except they started doing that years ago. The path to an increased win rate is no easy one, and if you don't want to dedicate time to it, our Valorant win boost is exactly the service you are looking for.
How to buy kills in Valorant
If you want to buy wins on Valorant but aren't sure how to proceed with the purchase - we have prepared this detailed step-by-step breakdown of the entire process to make the entire thing easier and more intuitive.
How to buy wins farm in Valorant:
Select a desired number of wins.
Choose your current rank.
Proceed to the checkout.
Finalize your purchase.
Wait 3-7 minutes for us to contact you.
We will specify all the required information.
…and that's it!
Relax and enjoy while we farm Valorant wins during your matches. If you want to learn more about kill farming in Valorant or want to add something extra to your order - don't hesitate to reach out! You can contact us via Discord, Skype, or live chat here on the website. Our customer support is available 24/7 and we are always ready to assist. Make your Valorant gameplay more enjoyable with Boosthive today!