Valorant Placement Matches Boost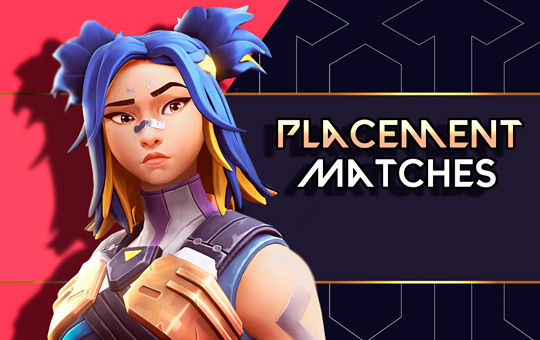 Valorant placement match boosting is a service that will allow you to get straight into ranked matches without having to go through placement games yourself. This service is also great for players who want to start at a higher rank than they normally would.
Our professional players will complete Valorant placement boosting ensuring that you have a decent rank going forward into the game. Simply select your rank in the previous month and the number of games you want us to complete. We will handle the rest!
Start time: 1 hour / Boost takes: ~5 hours for 10 games.
Valorant placement matches carry includes:
A chosen number of placement matches.
Win rate of 60-80%.
Various seasonal rewards.
EXP for the battle pass.
High K/D ratio.
Manual service completion.
VPN for security.
Important: Please keep in mind that the win rate most likely wouldn't be 100%, as we don't use cheats or 3rd party programs to achieve this result. However, our professional players can guarantee a 60% and above win rate, and likely even higher.
Before buying Valorant placement boosting please make sure to take a quick look at the minimum requirements for this service.
Requirements:
any Valorant region;
ranked matches unlocked;
this service is piloted only;
select the correct starting rank.
You can pick any number of Valorant placement matches for boosting via the slider.
Valorant placement matches for sale
Valorant, much like other competitive shooters, features a ranking system. However, in order to determine which rank to assign to any given player at the start of the season, the game offers them to play through placement matches. They are designed to determine a player's skill level and assign him a correct rank. With our placement matches boosting in Valorant, you can skip these games and get to a good rank from the get-go.
How many placement matches are there in Valorant?
There are five placement games in Valorant, and you can let us handle all of them with our Valorant placement boosting. If you want us to do less, or you've already done some of them, don't worry! You can simply select your desired number of games with a slider before making a purchase. Our professional players will handle the rest, all the while increasing your K/D, as well as your general win rate.
If you have any questions about boosting placement games in Valorant - don't hesitate to reach out to us directly! Our customer service team is available 24/7 and is always ready to answer any and all of your questions. You can contact us via Discord, live chat here on the website, or even Skype. Make your Valorant gameplay more enjoyable with Boosthive today!