Valorant Battle Pass Boost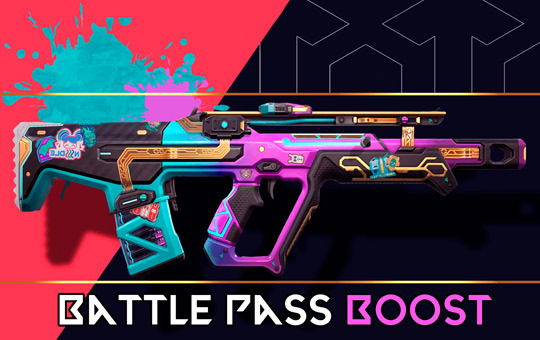 Estimated time for boost
: 
30 days
Choose your current and desired Battle Pass level
Estimated time for boost
: 
30 days
Valorant battle pass boost is a service for reaching any Valorant battle pass level in the shortest time possible. Get all the amazing cosmetic rewards without having to sink dozens of hours into the grind with our quick and efficient services. Buy Valorant battle pass levels and forget about the tedious BP level farming, as we will take care of everything for you!
While all rewards from the pass are cosmetic and do not provide an advantage in a competitive environment, having beautiful cosmetics just makes the gameplay way more enjoyable. Valorant battlepass boost is a fast and easy way to unlock these cosmetics to enjoy the game more.
Start time: 1-2 hours / Boost takes: 14 hours per 1 BP level
Valorant battlepass carry includes:
Your desired battle pass level.
Account experience points.
Some progress towards your active contract.
Manual service completion in all regions.
Before you buy Valorant battle pass leveling, please make sure to take a quick look at the basic requirements for this service.
Requirements:
Valorant account;
Battle Pass unlocked on account;
your desired starting bp level achieved.
Live stream is available for this service, however, please make sure to request it before the boost starts so we have enough time to set everything up.
How does Valorant battle pass boosting work
If you want to receive beautiful cosmetics from the pass, all you have to do is to buy Valorant battle pass leveling here at Boosthive. After doing so, our customer service team will get in touch with you within a couple of minutes to specify your preferred time for the service, as well as other important details.
After everything has been discussed our team of professional players will start leveling your Valorant battle pass within 30 minutes. We will make sure to use all necessary security precautions before starting the service completion as well. All there is left to do for you is to relax and enjoy receiving battle pass cosmetics.
Valorant Season 7 battle pass rewards
The main reason to buy Valorant battle pass leveling service is, of course, skins and various other cosmetics that BP provides. Before you get our Valorant BP boost you might want to learn just what exactly you will receive after getting it. For this purpose, we have compiled a list that describes the rewards of Valorant BP in season 7 act 1.
You will receive:
13 weapon skins;
16 sprays;
11 player cards.
The most valuable rewards here are, of course, weapon skins. Here is a full list of them for Act 1 of Season 7.
| | |
| --- | --- |
| Weapon skin | Required level |
| K/TAC Sheriff | 1 |
| Jigsaw Ares | 5 |
| Monarch Shorty | 10 |
| Jigsaw Judge | 15 |
| Monarch Bucky | 20 |
| K/TAC Bulldog | 20 |
| K/TAC Vandal | 25 |
| Monarch Frenzy | 30 |
| Jigsaw Guardian | 35 |
| Monarch Marshal | 40 |
| K/TAC Operator | 45 |
| K/TAC Knife | 50 |
| Jigsaw Ghost | 50 |
As you can see some of the best rewards can only be obtained at higher levels of the pass, which means that grind is inevitable. Unless you use our Valorant battle pass leveling services, of course!
If you have any questions about this service, want to add something to your order, or simply want to reach out to us - you can do that at any time. Our customer service team is available 24/7 and is always ready to provide their assistance. You can contact us via live chat here on the website, as well as Discord, or even via Skype. Make your Valorant gameplay less tedious and more fun with Boosthive!