Valorant Radiant Rank Boost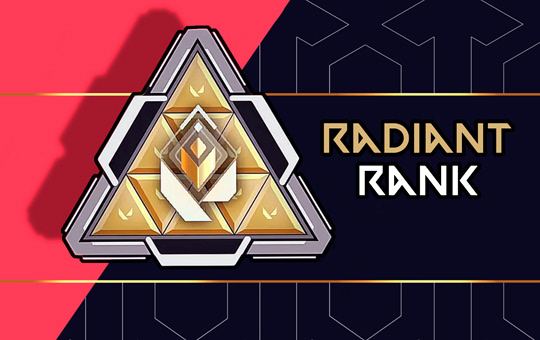 Valorant Radiant rank boosting is a service for entering the top 500 Valorant players in your region. Achieving such a feat is not something most players will ever be able to do. It requires an enormous time investment into learning and honing the gaming skill. However, this can become a reality for you with our Valorant top 500 boost.
Valorant Radiant boost is here to help you with achieving the most prestigious rank in the entire game. Get amazing rewards, as well as respect from your fellow players by achieving this truly prestigious rank. Valorant Radiant carry is the fast and easiest way to achieve this rank without having to sink thousands of hours into the game.
Boost takes: 18-21 days / Start time: 2-3 hours.
Valorant Radiant boosting includes:
Radiant rank achieved.
Manual service completion.
High K/D ratio and winrate during the boost.
Various rewards obtained during the gameplay.
Stream is available for free.
Available in all regions.
If you want to start your journey to the Radiant rating today, simply place an order and we will take care of everything for you. However, before doing so, please make sure to take a quick look at the basic requirements for this service.
Requirements:
Valorant account;
Immortal III rank;
this service is piloted only.
Contact us in case you haven't achievement Immortal rank III and we will make a custom deal for you.
You will also receive many various rewards throughout the boost since your Battle Pass level will increase along with your account level in general.
Radiant rank boosting in Valorant
Buy Radiant ranking in Valorant and experience what it is like to be on the top of this competitive first person shooter. For many players, it is nearly impossible to achieve such a high rank, since it requires an enormous time investment, as well as a well-coordinated team of players that are also willing to sacrifice thousands of hours playing this game.
However, it doesn't have to be this way since our professional players already went through it all and can achieve this coveted rank for you. Our Radiant rank carry provides you with players that have years of experience with the genre and Valorant in particular, making them able to easily enter the top 500 in the shortest time possible.
Rewards for reaching the top 500 in Valorant
Apart from reaching the most prestigious rank in the game, Valorant Radiant rank carry also allows players to receive various in-game rewards that are simply not available for players with lower ranks. These rewards include various cosmetics, such as skins and gun buddies. Those rewards will indicate your skill to other players in all matches you participate in! To top it all off, players with this rank are highly respected, which allows them to enter various tournaments and events.
If you have any questions about buying a Radiant rating in Valorant or simply want to add something extra to your order - contact us! Our customer service team is available 24/7 and is always ready to assist and answer any questions that you might have. You can reach out to us via Discord, live chat here on the website, or even Skype. Reach unimaginable Valorant heights together with Boosthive!