Valorant Agent Contract Boost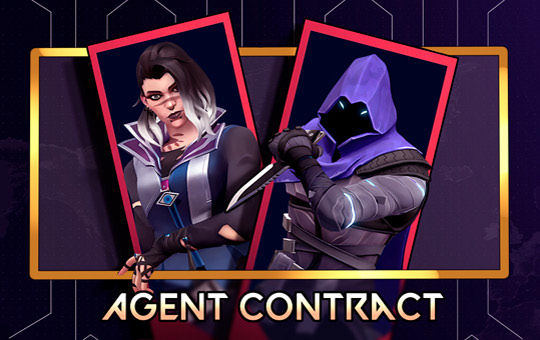 Valorant contract boosting is a fast and easy way to unlock any character in Valorant. This service will complete all the contract challenges required to unlock your desired agent. Save yourself time by buying an Agent contract completion service here at Boosthive.
No need to waste massive amounts of time on unlocking each agent manually when we can do it for you. Our professional players will complete the challenges for you, increasing your account stats in the process. Have new agents to play as, with our Valorant agent contract carry.
Start time: 40-50 minutes / Boost takes: 1 day for each agent
Valorant agent contracts leveling includes:
Your desired tier in the agent contract.
Various Cosmetic items.
A bunch of XP.
Some matches completed.
High K/D ratio during the service.
Around 60-80% winrate (depends on your current rating).
Manual service completion.
Choose the contract and pick the number of tiers you want to level up - we will start from your current tier. Before you buy Valorant agent contracts leveling, please make sure to take a quick look at the basic requirements for this service.
Requirements:
Valorant account;
this service is piloted only;
contracts unlocked.
Valorant agent contract access FAQ
Unlocking agents via contracts in Valorant is an important part of the gameplay that any Valorant player would want to interact with at some point. We have prepared this FAQ section for players who want to buy Valorant agents contract boosting, or simply learn more about how this system works in more detail.
How to unlock agents in Valorant?
In order to get access to a new agent in Valorant you need to navigate to the agents tab in the main menu of the game. From there you can see contracts, which are challenges required to complete in order to unlock your agent of choice. Activate the contract and earn contract XP via challenge completion. If this sounds convoluted and time-consuming, you can simply buy agent unlock in Valorant here at Boosthive and we will handle everything for you.
The fastest way to boost agent contracts in Valorant
The only way is to complete games and challenges, there isn't a hidden mechanic or a secret that allows you to do it faster. Unfortunately, it simply comes down to grinding. Our Valorant agent contract leveling, however, can ease up the grind and earn XP for you as quickly as possible.
How long will it take to unlock an agent in Valorant?
It usually takes around 15 to 30 hours of pure gameplay in order to unlock an agent. The time variance comes from your personal skill and the amount of XP you can earn per match. If you are playing well, then the process will speed up significantly. Since our Valorant agent contract boosting is performed by professional players, we can guarantee that the unlock will happen in the shortest time possible.
How to unlock more agent contracts in Valorant?
Unfortunately, you cannot have more than one agent contract active at a time. If you have more questions regarding Valorant agent contract boosts or want to add something extra to the service - don't hesitate to get in touch with us directly. You can do so via Skype, Discord, or live chat here on the website. Our customer service team consists of real people that are available 24/7 and are always ready to provide their assistance. Make your Valorant gameplay much more enjoyable with Boosthive today!