CS2 Global Elite Boost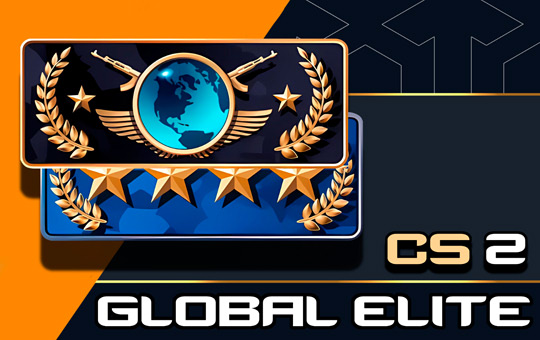 Counter Strike 2 Global Elite boost is a service for reaching the max rank in CS2. Achieving such a high rank is extremely difficult and not something most players will ever be able to do. The time investment to even try reaching GE is enormous. However, you can achieve it with our CS2 Global Elite boosting.
Buy Global Elite rank in CS2 and reach the most prestigious rank in the entire game. Get respect from your fellow players by achieving such heights. CS 2 Global Elite carry is the fastest way to achieve this rank without stress.
Start time: 1-2 hours / Boost takes: up to 8 days.
Counter Strike Global Elite carry includes:
Global Elite rank achieved.
Manual service completion.
High K/D ratio and winrate during the boost.
Skins and crates that dropped during the gameplay.
Live stream of the boosting process.
Service is available in all regions.
Simply place an order and start your journey to Global Elite today. However, before proceeding to the purchase, please make sure to take a quick look at the requirements for this service.
Requirements:
CS2 account;
Prime Status purchased;
calibration games completed;
this service is piloted only.
If you haven't passed your calibration games yet, simply contact us via live chat or Discord and we will be able to assist with that as well.
How to Buy Global Elite Rank?
Buy Global Elite in Counter-Strike 2 and experience what it's like to be on the top of this competitive first-person shooter. For many players it is an unreachable goal, since you need extremely high personal skill, as well as a team that can match it.
However, it doesn't have to be like this, because our professional players already went through this process and can achieve this coveted rank for you easily. Our Global Elite carry provides you with players that have years of experience with Counter Strike, making them able to easily reach GE in the shortest possible time.
The whole boosting process is simple and straighforward. Here is a short step-by-step guide on how it works.
Choose the desired map for the service.
Pick your current rank (please chose only ONE option that represents your current ranking).
Proceed to checkout to make an order.
Our managers will contact you within 3-7 minutes to set everything up ready to the service.
We will schedule Global Elite boosting and our team will log into your account at the appointed time.
Firesquad will rank you up fast without using 3d party software.
Enjoy your Global Elite ranking and all other rewards.
If you have questions about buying Global Elite in CS2 or want to add something extra to your order – contact us directly! Our customer service team is available 24/7 and is always ready to assist and answer any questions that you might have. You can reach out to us via Discord or live chat here on the website. Start your journey to Global Elite with Boosthive today!