CS2 ESEA Rank Boosting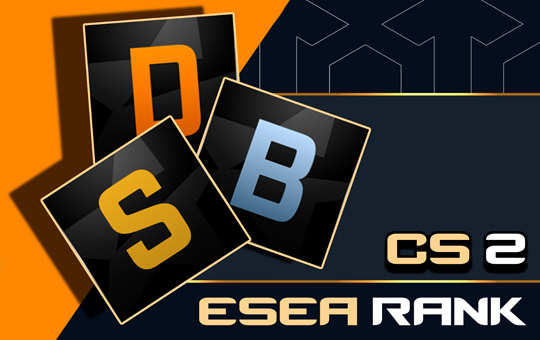 Estimated time for boost
: 
12 hours
Estimated time for boost
: 
12 hours
Counter-Strike 2 ESEA boost is a fast way to reach your desired rank in the ESEA CS2. ESEA ladder is a much more advanced system that is designed for highly skilled players. CS 2 ESEA rank boosting is the best way to reach S rank in ESEA without stress.
ESEA rank carry is available in selfplay and piloted modes. This service will help you to improve K/D ratio on your profile while increasing your ESEA standing at the same time! Don't stress out about boosting the ESEA rank when professionals are ready to help.
Start time: 40-50 minutes / Boost takes: depends on current and desired rank.
CS2 ESEA rank boost includes:
Your desired CS2 ESEA rank.
High K/D ratio during the boost.
Cases and skins dropped during the boost.
Manual service completion.
Take a look at the other requirements before making a purchase.
Requirements:
CS2 account;
Prime status.
How it Works
If you are wondering about how Counter Strike 2 ESEA boosting works you can take a look at this easy step-by-step breakdown of the entire procedure.
Select your current and desired ESEA Elo.
Add extra options if there are any that caught your attention.
Proceed to the checkout and finalize the payment.
Wait for 3 to 7 minutes for us to contact you directly.
We will set everything up and schedule your service.
We'll start ranking at the appointed time & help you reach the desired ESEA rating.
That's it! Enjoy your new ESEA rank.
As you can see the entire process is simple and requires very little time and effort to get started with.
What is ESEA rating?
The ESEA rating can be found on a dedicated website, separate from the in-game interface. Its uniqueness lies in its affiliation with the world of esports, offering exciting opportunities to engage in ESEA tournaments and secure valuable prizes. To partake in these tournaments, however, achieving a high rank is crucial, and that's precisely where our ESEA rank boosting service comes into play.
Should you have any inquiries or wish to enhance your ESEA experience further, feel free to contact us without hesitation. You can reach out via Discord or access our live chat right here on the website. Elevate your CS2 gameplay and make it more enjoyable by choosing Boosthive today!