CS2 Placement Matches Boosting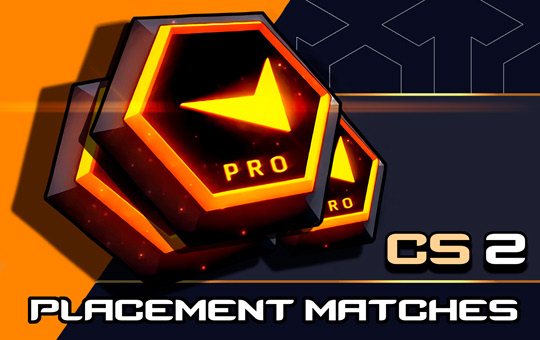 CS2 placement matches boost is a service that helps to achieve a 60 to 80% winrate during ranked calibration in Counter Strike 2. No need to waste time with low-skilled players, with this service you can jump straight into the heat of battle with worthy opponents. Our professional players will boost placement matches in Counter Strike 2 for you in the shortest time possible with a high K/D ratio.
Start a new season playing against high-ranking opponents with this service. CS 2 placement boosting is a great way to get into the fun part of the game without having to grind calibration games first.
Start time: 1 hour / Boost takes: 40-50 minutes per game.
CS2 calibration boosting includes:
Your desired number of placement matches completed.
High K/D ratio throughout the boost.
Skins and rewards dropped during the services.
Simply select how many placement matches you want us to complete and we will take care of the rest. You can select solo boosting as an additional option, which will improve your account's statistics on various tracking websites.
Before you buy CS2 placement boosting, please make sure to take a look at the requirements for this service.
Requirements:
CS2 account;
Prime Status to access ranked;
this service is piloted.
How it Works
There are 10 placement matches that players have to complete in order to get access to the ranked mode in CS2. These matches will also decide the skill level at which they will be competing, meaning the starting rank of a player depends on them.
Placement match boosting in Counter Strike 2 is a service that will help you get great K/D stats and winrate in order to ensure a high starting rank. Here you can read about how this works in more detail.
Select your desired number of placement matches to boost.
We will discuss convenient times for boosting.
Our professional players will log into your account and complete them with a high K/D ratio.
That's it! As you can see the process is very simple. You should also keep in mind that while wins are important during placement games, CS2 also checks your other stats, such as K/D, and compares them not only to your opponents but also to your teammates. Having a professional player participate in placement matches is a great way to ensure a high rank at the beginning of the season.
If you have more questions about Counter-Strike 2 placement boosting, please contact us directly via live chat or Discord. Our customer service team consists of real people and is available 24/7. Make your CS2 gameplay more enjoyable with Boosthive today.