Spawn of Horridon Mount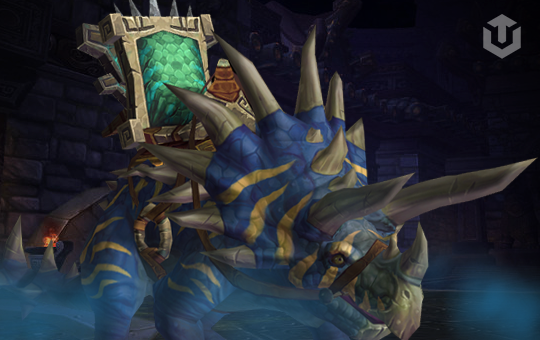 The Spawn of Horridon is an ultra-rare raid mount that has a 1% drop-chance from one of the Throne of Thunder raid bosses. One may buy the Spawn of Horridon mount and never wait for it to drop from the Horridon every week again. The official drop chance of this mount is 2.8%, however, cases have shown it can be as low as 0.7%.
The following rewards will be available with the purchase of a Horridon mount boost.
The Horridon Spawn carry includes:
Spawn of Horridon mount farm options:

multiple Throne of Thunder runs to kill Horridon (without mount guarantee);
Horridon mount farm guarantee (we run the raid until it drops);
fast buyout from BMAH (without using your gold).

Some transmog items from the ToT raid.
24/7 customer support available during the boost.
Free 1-70 leveling to access Black Market (only for BMAH method).
Boost takes:
3-4 months on average (regular farm);
2-8 weeks to get from BMAH.
Our professional Horridon mount carry service can provide a 100% guarantee on receiving this epic dinosaur mount in the fastest time possible, however, to get it, characters should comply with some essential requirements.
Please note, getting this mount from Black Market requires following some basic instructions from our team. Please read carefully the service description and all requirements before the purchase.
Requirements (BMAH buyout):
second sub-account with new expansion (f.e WoW 2) on the same battle-net;
active game time;
NO need to have ANY gold on your account;
3 character transfer bundle purchased;
this service is piloted only.
Requirements (regular farm):
45 level;
active wow subscription.
In case of missing a leveled-up character, one may always try our fast power leveling services to get it. Additionally, powerleveling could be used to get as many alt characters as needed, therefore increasing the chances to receive the Spawn of Horridon mount faster.
Raid mounts farming implies killing the single boss in this case Horridon over and over with all available characters during each cooldown reset. It can take days, weeks, or even months to add the Spawn of Horridon mount in the collection. To simplify this process we have gathered some interesting information that may come in handy during the Horridon farm.
BMAH Spawn of Horridon Mount For Sale
The way of getting Horridon mount from Black Market is very simple. We are going to explain all details on how we can get it in such a short period of time and provide a step-by-step guide.
You need to create another account (f.e. WoW 2) within your battle-net account.
Any Dragonflight edition and game time purchased.
Order 3 Character Transfers bundle via in-game shop.
Our team will start hunting for the desired mount on 20+ different realms.
When an item pops up on any server, we will transfer there.
We will start bidding on the item and win it on the first try with a ~95% chance.
If we lose the bidding, we will repeat steps 4-6 steps.
We are tracking all low-popular servers. Our boosters know how to increase the chances of winning the bidding on BMAH. We use only legal methods and everything is completed on your separate account, so you never risk wasting your money and time.
How to get Horridon mount fast in BFA or Shadowlands?
The actual process of getting the Spawn of Horridon mount is very simple. One should visit the old Pandaria raid instance - the Throne of Thunder and kill the 2nd boss there. There are 2 rare drop mounts in this raid dropped by Horridon and Ji-Kun bosses. The Clutch of Ji-Kun can also be purchased from our store.
These steps may serve well for anyone trying to acquire the Spawn of Horridon mount.
Go to Shado-Pan Garrison to be teleported into the Island of Thunder Zone.
Enter the Throne of Thunder rain in the center of the island.
Set the required raid difficulty. Horridon mount drops in both heroic and normal ToT.
Successfully defeat the second boss (Horridon) and hope for the mount to drop.
Loot the Spawn of Horridon mount and ride it during your leveling in Shadowlands.
A lot of time can be saved by simply delegating any rare mount carry service to Boosthive professional boosters. This way you will not have to worry about the drop chance of Horridon Spawn as we guarantee you to have it no matter what.